We still don't really know who Caleb is, but I still think that's because we don't need to really know who Caleb is yet. My speculation is that he probably did pretty decently. When they start featuring him, is when I'll start to worry he's going to get voted off the show.
Last night Bitter's mom was up, who is a fan of Surviver, and likes Colby. She really liked the show, but noticed Caleb had a tear in his shorts when he was lounging outside. Sorry Caleb, you're HDTV's bitch: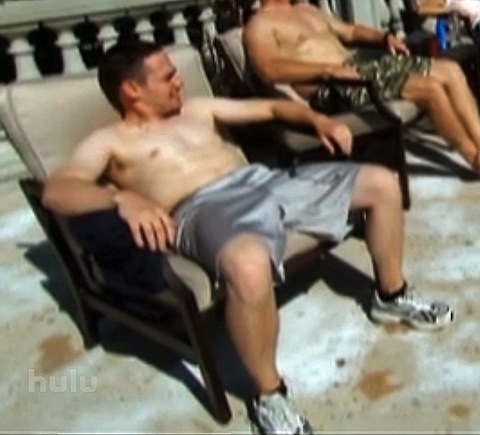 I thought the challenge at the end, shooting while on a zip line, was pretty good. I definitely would have difficulty with something like that. Most of us have some shooting and moving experience, but not that kind of shooting and moving experience. I feel like the wrong guy was eliminated, however. So far I think the Red Team has a lot of talkers, while the Blue Team is working better together. The exception to that, so far, is Kelly, who I am rooting for on the Red Team.