The Vice President was in town tonight, to attend a fundraiser for Arlen Specter. Word on Twitter spread there was going to be some protesting across the street at our local supermarket, so we hopped in the car and drove on down.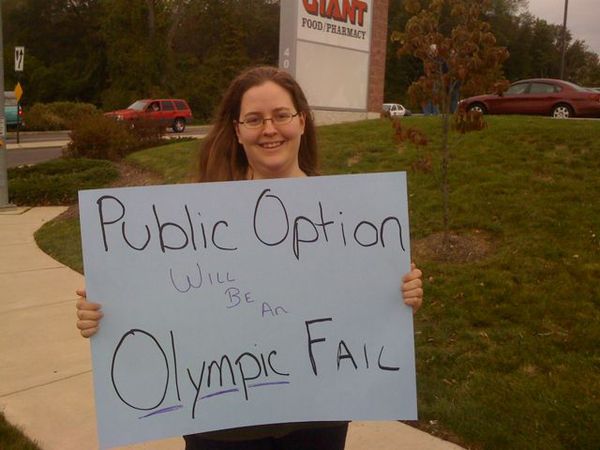 Bitter was carrying a sign, and I was documenting the whole thing on Twitter. I am not much of a protester, and don't particularly enjoy attracting attention to myself, so I mostly lurked in the background taking pictures, and tweeted the event. Midway through, I wished I had a giant inflatable pig, because really, what protest is complete without a giant inflatable pig? Just think of the possibilities!
This was an easy affair for the Vice President. Pop in, stick your foot in your mouth, and pop out.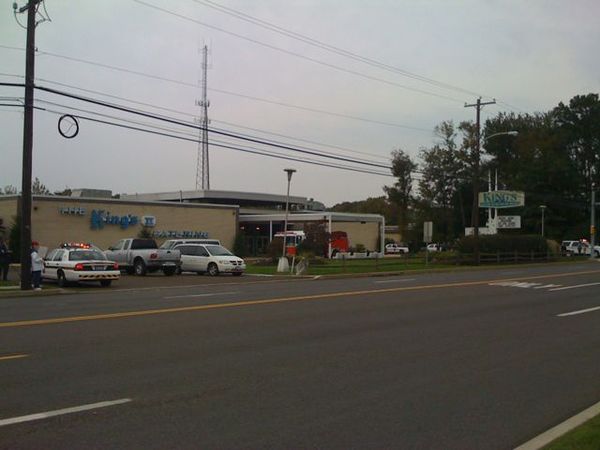 What was amusing for us was that the venue for this Dem fundraising shindig is at the local caterers that Bitter and I constantly make fun of when we go to the supermarket. It is straight out of the 1970s, and I don't think has seen much renovation since. Certainly not a place you'd expect a fancy Dem fundraiser. I think they had to clear out to make way for Spinal Tap, which was playing the venue after Joe.
I am pleased to mention that anti-administration protesters outnumbered pro-administration protesters by a ratio of about 10 to 1 at the height of the protest.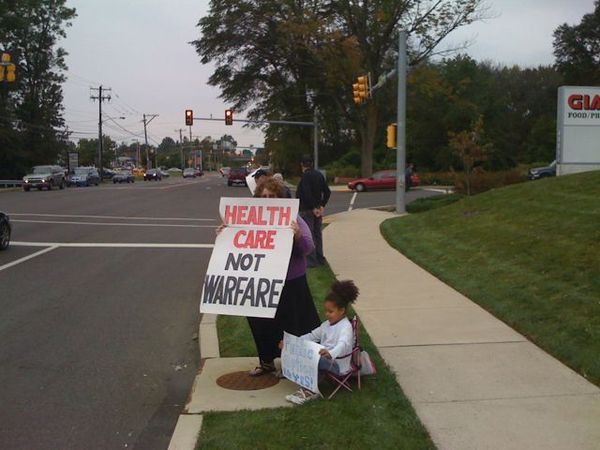 That was our 10, to their one. I can't even say their one had a sign that was all that pro-administration, since Obama seems to want both healthcare and warfare. He hasn't exactly left Iraq and Afghanistan in a hurry, lady. Though perhaps he's about to change that. She was very nice and cordial, and I was friendly, waved, and smiled. Her beef was that she had to pay 1000 dollars a month for health care for her and her daughter. I am sympathetic. I have to pay 1600 dollars a month for a mortgage for a house to put a roof over Bitter and I. Affordable housing is a right, isn't it? So naturally the solution is for taxpayers to make my mortgage payments for me, right? I mean, it's the fair thing to do.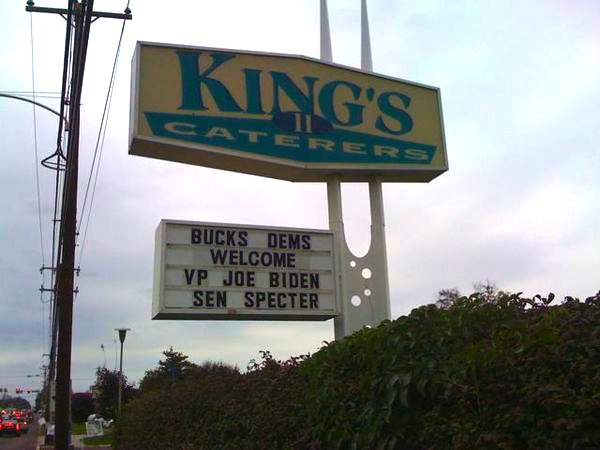 At the end of the day, Bitter was happy that Biden, on his way out, was looking at her, and her sign. Granted it was through several layers of ballistic glass, but it was definitely him. For the curious, I did not attend the protest armed. I know, I know. Some people will suggest I am the Brady Campaign's bitch by leaving my guns at home, but did not know, being just across the street from the Vice President, what the Secret Service reaction would be if they made me. I figured between the Secret Service, the State Police, and three local police departments, there were plenty of guns around to protect everybody. If the S was going to HTF, I don't think they would have appreciating me trying to play a starring role in that drama.
Bitter was happy to feel like she stuck it to the man, or at least the Joe, just a little. I was sad I did not have an inflatable pig. Maybe next time.