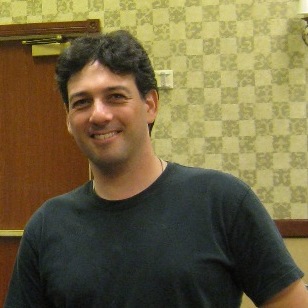 Probably the main highlight of the Gun Blogger Rendezvous IV was being able to spend some time talking with Alan Gura, the attorney who argued and won the Heller case before the Supreme Court of the United States. When I say we owe Alan Gura a lot, it's an understatement. He put together a case, and took it forward, when a lot of folks, including me, thought it was a tremendously risky proposition. Even in the early days of Parker, you could find him on blogs making the argument for taking his case forward. It was his arguments on blogs that eventually convinced me taking Parker (later to become Heller) forward was the right thing to do. Alan gave us an overview of what convinced them the time was right — hat there was a circuit split the Court would want to resolve, and that at some point, someone is going to take a case forward. They decided it would be best to build a solid case, and go with it, which is what they did.
One thing that made me feel good is the confidence Alan displays about winning on the most serious stuff. We asked him about really everything from incorporation to assault weapons bans, and he feels Heller offers enough language to make a winning case for every one of those things. He's currently pursuing cases challenging the California handgun roster, bans on concealed carry in Washington DC, in addition to the incorporation suits he has on the table.
He briefly went into the concealed carry issue, and basically explained what were the legal options left open to us by Heller, and by what's traditionally been the case in American law. In the legal theory he presented, the government is permitted to regulate the manner in which someone carries a firearm, but it may not outright prohibit citizens from carrying a gun for self-protection. His goal with the DC case (Palmer) is just to get a ruling that the District of Columbia may not outright prohibit the bearing of arms. What form of law the District enacts to comply with the decision is something for another day, but the goal is to get the ruling that carrying of firearms for self-protection is covered under the Second Amendment, with the government only able to regulate the manner of carry. He seems confident that he can prevail on this issue.
The final topic we got into was what he thought the biggest threats to the Second Amendment were, and what we, as bloggers, could do about it. His response was that he did not feel that the biggest threat to the Second Amendment came from groups like the Brady Campaign, VPC, or the now defunct Second Amendment Research Center run by Saul Cornell. He believes the biggest threat to the Second Amendment comes from our own extremists and lunatics, and that the biggest way we could contribute as bloggers is in confronting that cancer within our community. Just as an example in the legal world, he brought up the example of Gary Gorski, who was the attorney who famously brought us the disastrous Silveira case, and who continues to bring bad cases forward, and recently has been screwing up concealed carry cases in California, finally culminating in Gorski calling Gura "nothing more than an officious meddler."
The best a Second Amendment activists can really do is shrug a lot of nonsense off, but it's a huge distraction, and you can see in the example above what potential for damage there is from supposed members of our own community. I don't stand up to these lunatics because I like the attention, traffic or because I run out of things to talk about. I do it because in my dealings with effective people, every one of them has felt discouraged by the endless amount of pooh flung in their direction by egomaniacs and lunatics who delight in doing so. I agree with Alan that we are our own worst enemies, and I will continue to stand up for what is effective, and argue against that which is not. It meant a lot to me to hear something like that coming from someone as credible as Alan Gura.