I have a pretty strict rule: I don't talk to journalists. I've rarely made exceptions to that, but for the most part, that's my rule. As a result, I've given up a lot of opportunities to self-promote and up my profile. If there's anything I've learned in the gun issue, it's that being an effective self-promoter pays. You can't swing a cat in the gun rights issue without hitting a dozen self-promoters, at least half of whom will border on shameless.
Definitely in the category of "shameless" is Phil Van Cleave. I understand that as head of a state gun right's group, Phil can't take the same policy I do. He has to talk to the media to a great degree. But seriously, you should have walked out of the room long before this: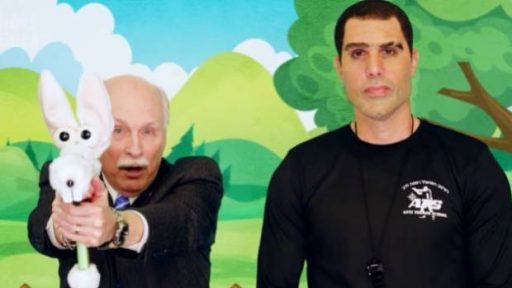 Since this came out, I don't think Van Cleave has exactly covered himself in glory. His spin on this is pretty much that he went undercover as a highly trained secret agent, intent on exposing who was behind this charade, and where it was going.
"For better or for worse, I decided that I would play along with the scheme so I could find out who was behind this and where this was going," Van Cleave said. "I figured if I was right about this being a set up, I could blow the whistle and get a warning out to the gun-rights community across the country to protect as many people as possible and maybe derail this attack."
Come on, just admit you got snookered. Cohen has snookered a lot of people more prominent than Phil Van Cleave. Or maybe suggest that you were going along with the comedy; that you thought you were participating in an obvious self-deprecating comedy piece and didn't think anyone would be crazy enough to take it seriously. You'd still be a sucker, but at least you'd still have some dignity left.
Does anyone other than rabidly deranged partisans think anyone, even Phil Van Cleave, endorse a "Puppy Pistol?" I like quality self-deprecating humor, but this isn't it. My issue with Cohen's comedy is that it's just not funny. Borat was a menagerie of cultural condescension, and looking down on others. Punching down is never good comedy. I only wish there weren't so many people in the gun rights movement that weren't so desperate for attention as to easily become victims of a con artists like Cohen.
UPDATE: Maybe I shouldn't be so hard on Phil Van Cleave. Watch Larry Pratt laugh about rape. A big part of appearing on television for interviews is to keep your shit in check and to not forget you're on TV.