It looks like Democrats are looking to candidates from deep red districts to not give in on guns and to openly push their national gun ban agenda.
I received my home town paper today, and this is a full-page ad running in small town papers in Oklahoma from Fred Gipson who is running as a Democrat in Oklahoma's 4th district which does have a college town, but is also largely rural.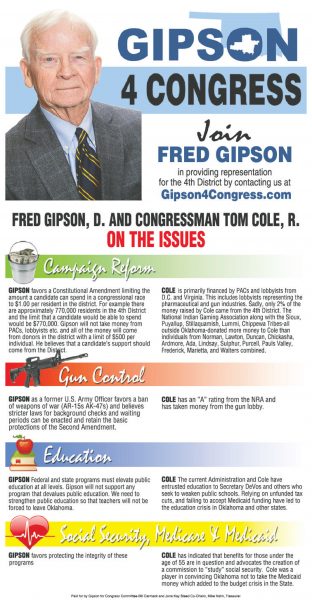 click to enlarge
I wish I was back in town the day the candidate visited so I could introduce myself as a "female AR-15 owner, NRA Life Member, volunteer to fund programs that teach young people how to safely and responsibly use semi-automatic rifles & other firearms, and past Democratic pro-gun candidate volunteer." All with a smile. Because even our insults back home are polite.
I think it's safe to say that given the branding of his website and lack of events posted that he probably doesn't stand a chance in a district where his incumbent opponent has consistently won with around 70% of the vote. But I don't think it bodes well for us that one of the major political parties is running openly on gun bans even in pro-gun areas. It seems they don't believe we'll be around long enough to matter.
If you live in OK-4, it might be wise to let your local Democratic Party know that you expect them to find candidates who have a record of respecting the 2nd Amendment instead of running candidates who campaign on banning guns many local residents own and use responsibly. Telling the local leaders who have a voice at the state level that they are hurting down ticket races by pushing gun control candidates on the ballot can make a difference in how the political parties work with us instead of against us.