May 25, 2017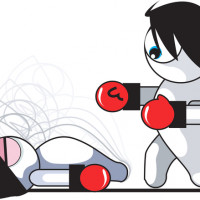 Bitter and I were debating this morning about whether the latest news that GOP candidate in Montana's special election, Grew Gianforte, body slammer a reporter who wouldn't get a microphone out of his face. It's my opinion that if anything, it'll boost Gianforte. Bitter isn't so sure. Thanks to early voting (don't even get me started on that), about 1/3rd of the ballots are already cast.
I don't think it's a good thing, but the rules are changing. We were all very fortunate to grow up in a period of relative political and social stability. We're witnessing the unraveling of the post World War II order, and it's a global phenomena. Everything is at stake and up for renegotiation. When politicians say "I'll fight for you," their supporters are increasingly expecting that to be literal.
In the past we've been far worse. Fist fights were once common on the House floor. Prior to and after the Civil War, a lot of Members of Congress carried pistols, for their protection…Â from their colleagues. I'm reminded of a bit of research Dave Hardy was doing, when he uncovered this bit:
Prior to the Civil War, Sen. Ben Wade (R-Ohio) said something on the floor which was deemed insulting to Sen. Robert Toombs (D-Ga), and a friend told Toombs, "you must challenge the old wretch!" Toombs replied, "No, I mustn't, for that old wretch is the deadliest shot in the District. Wade and I have been out practicing many times together, and he can hit a ten-cent piece at thirty paces every time, and to tell you the truth, sir, I cannot!"
Ben Wade was one of the Radical Republicans, who was largely responsible for the impeachment of Andrew Johnson, and who favored a Reconstruction policy far more punitive than Lincoln did. Are we headed back to that kind of political climate? I fear we are.
43 Responses to "Help or Hurt?"