Feb 13, 2017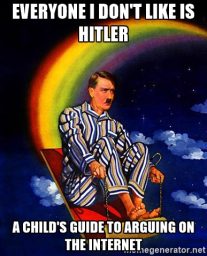 Gun news is pretty thin, so forgive an off topic post. I might have a news roundup this week, hopefully! These days I'm more worried that the country is literally coming apart in front of my eyes.
Maybe I have it bad because this area is kind of the front lines between Red and Blue America. We're where Blue America starts to stop, with Red America starting out in the Western Exurbs. This week I have started to manicure my Facebook News Feed to cut out people who post non-stop political bullshit. It's not just Facebook either. Bitter quit a neighborhood group because it descended into political bickering. It's infected a lot of other civic institutions we're involved with lately as well. It makes you wonder if this is what it was like to live in 1850.
But the coming apart back then was at least over a real issue; slavery. Today we're coming apart because people are frothed up about the bad guys in the movie playing in our own heads. I really don't want to live in an echo chamber. I'm actually disappointed I've never gotten more than a small handful of gun control advocates engaging in the comments, and I still have gun control blogs in my feed. I'm always open to an argument on the merits of an issue.
What I'm not into is thinking people I don't agree with are Hitler, Nazis, Fascist, Socialists, or Communists unless those people really are those things. When we use those to describe people we don't agree with, we cheapen those terms. If everyone is a Nazi then no one is a Nazi. If everyone is a racist, then no one is a racist. Hate, actual hate, becomes meaningless. This behavior is removing our rhetorical tools for confronting people who actually are all those things. I'm not into arguing over whether the movie playing in your head is any good or not, or commiserating with you over how nasty the bad guys are. I'm kind of appalled you think any of your Social Media friends give a crap.
I certainly have anti-Trump people in my social media circles who are offering thoughtful opposition to the Administration. These folks I don't mind. Trump will need some thoughtful opposition over the course of his presidency. But I see precious little of that versus patent nonsense.
UPDATE: Also see: "About That 'Punching Nazis' Thing…"
51 Responses to "Coming Apart"