So here we are at the 19th Annual National Firearm Law Seminar 2016. The room this is hosted in just keeps getting bigger and bigger. First I want to congratulate NRA's Office of General Counsel for finding a USB key for the course materials that has Level 2 retention: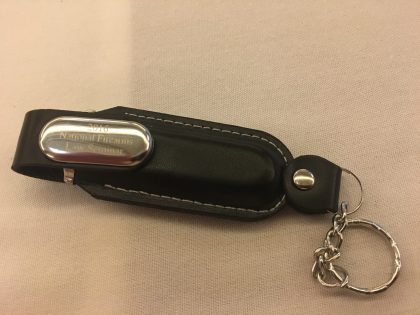 I was also surprised to see pretzels served as a breakfast food outside Philly! I'll cover the highlights from each panel speaker. For people who follow this blog regularly, a lot of what's discussed at the seminar is old hat, since its targeted at attorneys who may know nothing about firearms law. Most of my readers are more advanced than that, so I'll make a certain base assumption that you already have the basics.
Panel 1:
First up is Stephen Halbrook speaking about the current state of the Second Amendment. He currently has an article in Cumberland Law Review about the history of how suppressors ended up regulated under the National Firearms Act. You can tell he's frustrated by the massive resistance of the lower courts toward giving any real protections under the Second Amendment. Specifically he cites the case challenging the San Francisco Safe Storage law, which directly contradicted Heller, but which the lower courts upheld and the Supreme Court denied the appeal.
Next up is Joesph Greenlee, talking about the current state of 2nd Amendment law in each of the 10 federal circuit courts. Nearly every circuit has adopted the "Two Part Test," where basically the first analysis is whether the Second Amendment is implicated at all. The second test is determining the extend of the burden imposed on the right and then applying the appropriate level of some kind of heightened scrutiny (which of course is always set at a level where the government prevails). The surprising thing is how often the federal circuit courts don't even follow their own precedent when it comes to the Second Amendment!
Dave Kopel starts his part of the first panel by reminding everything that today is the 30 year anniversary of the Firearms Owners Protection Act becoming law, which Kopel calls "The most significant firearm civil rights reform passed by Congress to date." Dave's presentation was mostly around levels of scrutiny, including describing the fact that intermediate scrutiny is actually a pretty tough test. It's a shame the courts are often trying to pass off rational basis review as intermediate scrutiny, or we might be doing better on the legal front.