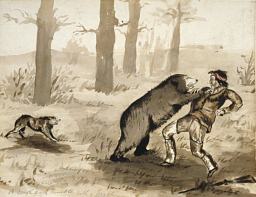 Thankfully, we can now carry in National Parks if the local laws permit it. Unfortunately for one 63 year old Montana man, hiking alone and off-trail while unarmed turn out to be a fatal proposition. Yes, I would carry in a National Park, anti-gun folks, because I have no desire for my mortal remains to include a few dozen pounds of bear poop.
Crosby was the sixth person killed since 2010 by grizzlies in the greater Yellowstone area, which has an estimated 750 grizzlies and includes the park and surrounding portions of Montana, Idaho and Wyoming.

Encounters between humans and grizzlies bears have risen sharply in recent decades as the region's grizzly population expanded. But relatively few lead to death or injury, and park officials say the risk of being attacked by a bear is comparable to the chances of being struck by lightning.
Yeah, and despite the risk of being struck by lightning being very small, years ago when I was hiking in the Northern Rockies, I learned the hard way why it's advisable to clear off mountain peaks before the afternoon comes around and storms start brewing. I wasn't hit, but I did learn from a far closer vantage point than I was comfortable with that rocks can be blown apart by lightning strikes. The storm came up on the other side of the mountain, and I never saw it coming. This was before the days when you could just pull up the weather radar on your phone. I will tell you, I was not feeling very comforted by the statistic that I'm very unlikely to get struck by lightning. By the same token, I doubt a hiker who comes across a big ol'Â grizzly bear is likely to be very comforted by the fact that he's very unlikely to be eaten. I wouldn't hike up a mountain in a summer afternoon, and I wouldn't hike in grizzly country without a proper hand cannon either.