Jul 7, 2015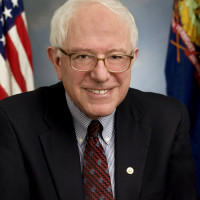 Bernie Sanders, the socialist candidate for the Democratic Nomination who's been eating Hillary's lunch, is a moderate on guns. He's not as pro-gun as we would like him to be, but by the standards of the modern Democratic Party, he's much better on our issue than anyone else in the Democratic field, save maybe Jim Webb (who doesn't have a chance). Bernie says, "I think I can bring us to the middle." One group that's having none of that are the mouth foamers over at CSGV, having a conniption over the idea that they shouldn't be allowed to file frivolous lawsuits against gun manufacturers. Sanders' says:
Now, the issues that you're talking about is, if somebody has a gun and it falls into the hands of a murderer, and that murderer kills somebody with the gun, do you hold the gun manufacturer responsible? Not anymore than you would hold a hammer company responsible if somebody beat somebody over the head with a hammer. That is not what a lawsuit should be about.
CSGV is upset because Sanders just exposed to everyone, on the left I might add, how utterly ridiculous and radical groups like CSGV, Brady, and Everytown have become. Even the socialist can't buy into their "common sense," and certainly isn't helping them perpetuate their deception. To make matters even worse for CSGV, you have outfits like MSNBC saying, "Overall, I'm generally skeptical that gun policy represents a real threat to Sanders' support from the left." Could that be because, as we've been arguing all along, that no one on the left really cares all that much about gun control?
I'd never vote for Bernie Sanders, but I admire his being up front and honest about his values. At least I know what I'm dealing with. He's not an empty suit floated on behalf of bomb throwing radicals, trying to sell himself as some sort of moderate by reading a mean speech off a teleprompter. I hope he gives Hillary a run for her money.
23 Responses to "Bernie Sanders Upsetting the Mouth Foamers"