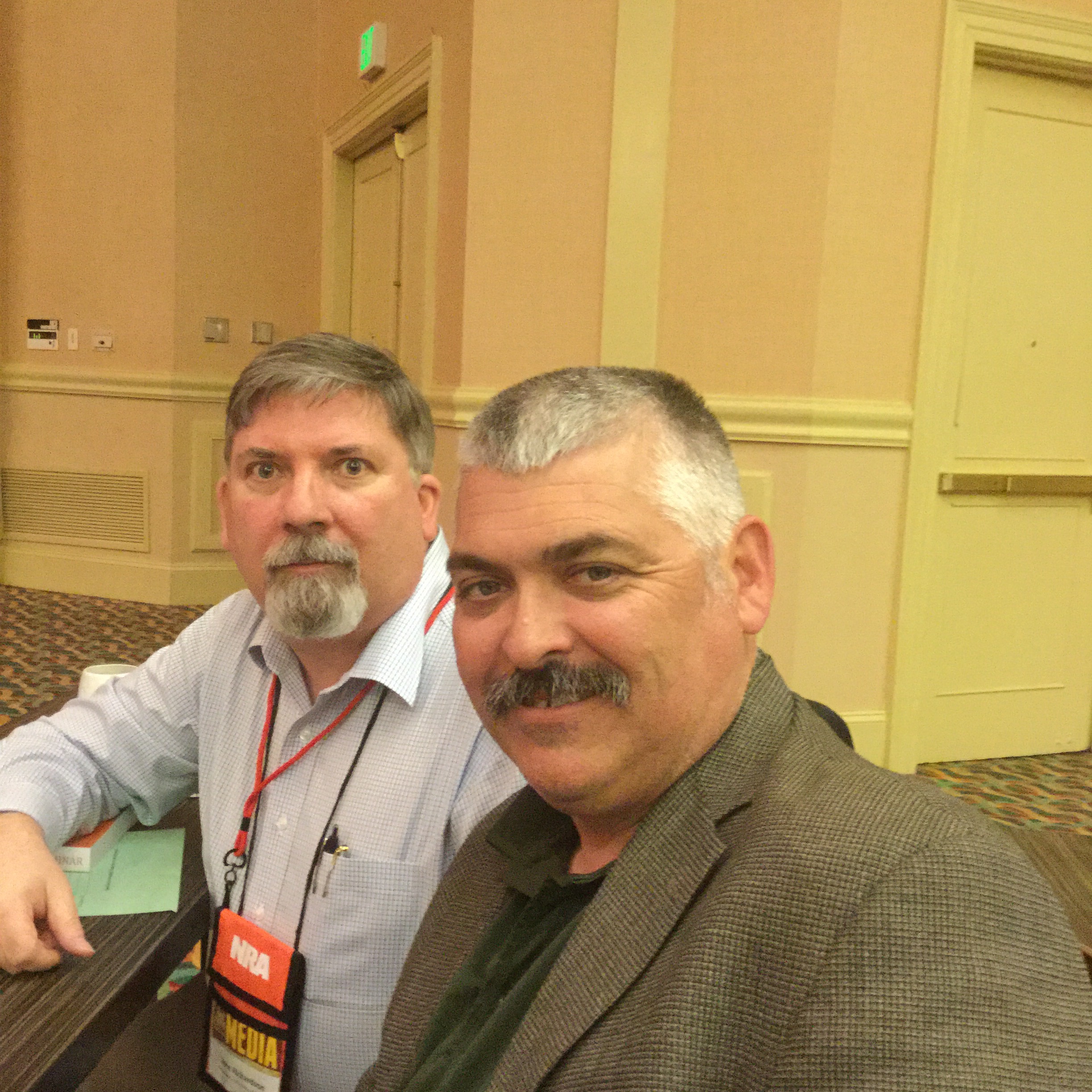 Sitting next to me at the Annual Firearms Law Seminar this year are Todd Vandermyde, who is the Illinois State Liason for NRA. Todd works miracles. Also, John Richardson of "No Lawyers, Only Guns and Money"
3:30PM CDT – Derek DeBrosse
This presentation is "Gun Rights Restoration – The Nuts & Bolts and Present-Day Military Issues." He covers the various cases that concern rights restoration for people who, for one reason or another, have become prohibited from buying and possession firearms. An interesting thing I didn't know is that you could send a fingerprint card to the FBI, and they will determine whether or not you're eligable to own a firearm. You can argue you were misclassified, and get a UPIN number that you use on subsequent purchases. If you think you might be prohibited, and you go to try to buy a gun, and you end up denied, technically you just committed a crime if it turns out you are indeed prohibited.
He's focusing more on the economics of rights restoration from a lawyer's point of view than other speakers. That's a polite way of saying he's talking about the fact that a lawyer can make good money in this category. I don't have a problem with that. Running a law practice is a business just like any other.
"I'm going to have to speed this up, because I've got 55 slides here." Yeah, I'd agree. It's you and one more speaker standing between me and beer. It's not a good idea to get in between me and a beer.
There's quite a lot of detail when it comes to rights restoration. It has to be done correctly. There are a lot of pitfalls. Too much detail for me to successfuly summarize for you all. Much of it is new to me. For instance, I did not know that felons get a Certificate of Final Release when they are released from prison, that often says "restoration of civil rights." There is case law that suggests that gun rights are restored. He notes that recently, authorities have wised up and put "except for firearms" on Certificates of Final Release.
.
He speaks to the NICS Improvement Amendment Acts of 2007, passed in the wake of Virginia Tech. It's very helpful with mental health restoration of rights in states that have implemented its provisions, but not all states have.
Going into military and veterans cases in regards to gun prohibitions, as DeBrosse goes through all the cases: I have to say is how the government and VA treats our veterans in regards to their gun rights is appalling. I believe this is by design.
It's very surprising how much a domestic lawyer who doesn't know gun laws could screw up an ordinary, uncomplicated divorce case and earn their clients a permanent prohibition on their gun rights, and possibly land them in jail for quite some time if they aren't properly informed. It's quite apparet we have a legal system, not a justice system. You can thank the late Senator Lautenberg for this state of affairs.
Interesting gun law trivia: It's easier to restore the rights of a felon, apparently, then someone who was convicted of a MCDV (Lautenberg). I'm not sure I quite understand the reason that is, but something to do with because it was a misdemeanor, you never really lost your rights, so they can't be restored.
4:35 PM CDT – William J. Ryan
William Ryan works in the Office of Cheif Counsel, BATFE, Firearms, Explosives and Arson Division (FEA). His talk is on NFA trusts. "Hopefully I can take a little of the mystery out of the NFA Branch." His first few slides are background information, noting that both attorneys and ATF often get terminology confused. I'd note that ATF's own slide says: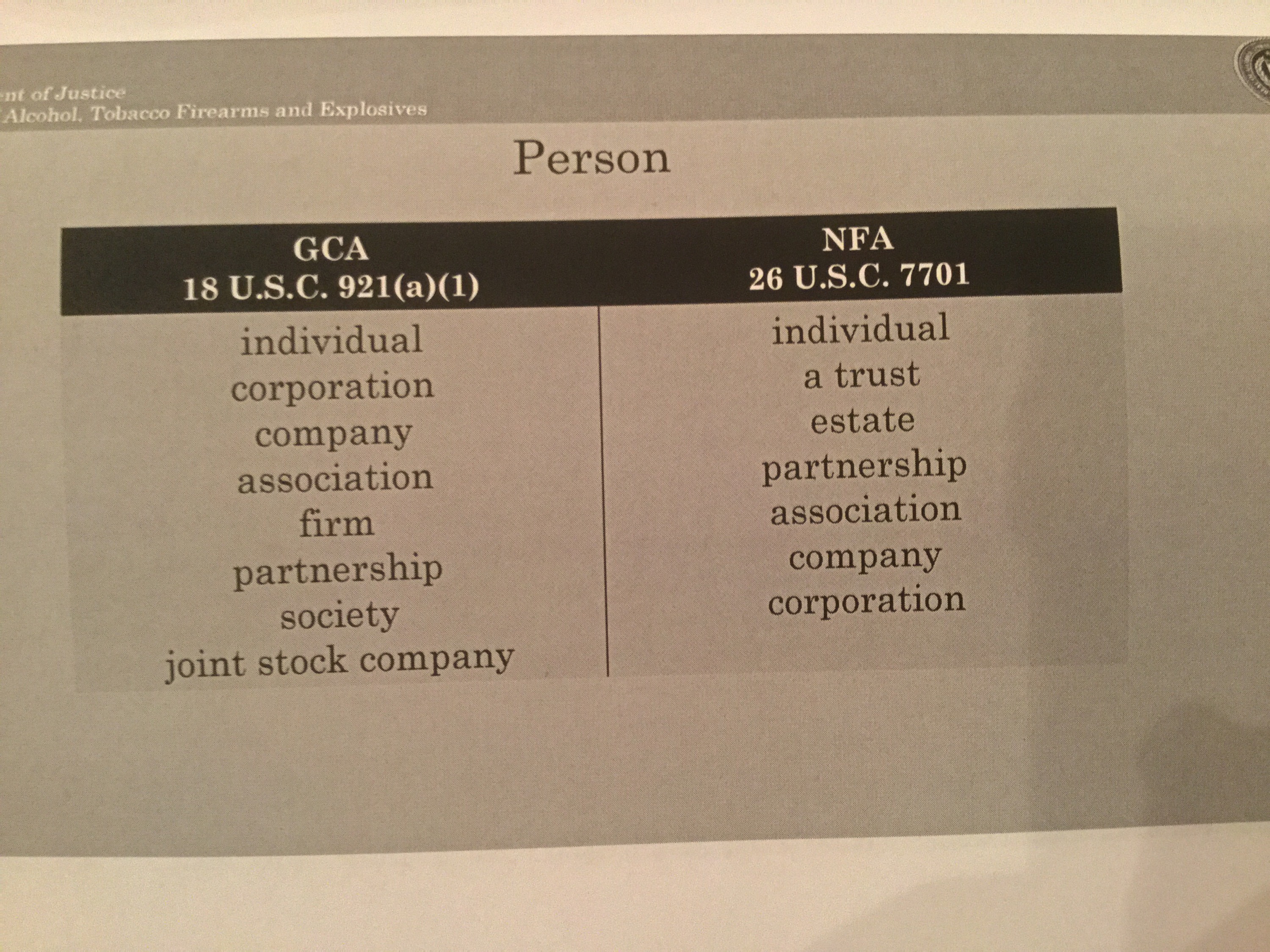 Note that even ATF admits that a trust is a person under the NFA, but it is missing from the Gun Control Act. This is important, because 18 U.S.C. 922(o), popularly known as The Hughes Amendment, is part of the Gun Control Act, and not the National Firearms Act. So how does a the post-86 machine gun ban, part of the Gun Control Act, apply to trusts? Why can't a trust possess a post-86 machine gun when by ATF's own admissions under GCA a trust is not a person.
There's some discussion of NFA transfers to heirs. Heirs fill out Form 5 and do not have to pay tax. They are considered involuntary transfers. But apparently if the decedant had a trust, and it is transferred to an individual, even under a bequest tax must be paid.
ATF notes that NFA forms processed are increasing exponentially sine 2002. Wow! He encourages lawyers to do more work with trusts, because trusts handled by lawyers cause fewer problems than ones put together by individuals.
He speaks to 41P rule change, regarding trusts, to require the same checks and CLEO signoff as an individual. He notes that the APA requires them to respond to any serious public comment, and they receieved a ton of them. Â THIS IS WHY IT'S IMPORTANT TO COMMENT!! Mr. Ryan notes that ATF is still persuing rulemaking on 41P.
A question is asked about what happens if an executor is a prohibited person. ATF notes that as long as there's a probate ruling from a judge putting the collection in the hands of an FFL, ATF is fine with that for as long as probate is proceeding.
Back to the issues of pro se trusts, Mr. Ryan relays a story of a trust that was copied extensively on the Internet, where people would change the name, but not change the name of the beneficiary. "So some woman in Kansas is going to inherit thousands of machine guns!"