A few weeks ago, when Bloomberg announced his effort to "educate" journalists, I mentioned "NRA has never done anything like this, as far as I know." Well, I will have to stand corrected. I get its Townhall.com, which owns Bearingarms.com, both of which are assets of Salem Communications. (i.e. in the category of, you would think, preaching to the choir), but there are clearly folks pictured there who are newbs. Sure, I'd rather see the editorial staff of the Washington Post or New York Times here, but there is still value in hosting perceived allies.
Years ago, when I had more time and money to spend a lot of time in DC, I was involved in a range day at Quantico Shooting Club for a major "conservative" (i.e. really libertarian) charitable foundation, and all but a few who attended were completely new to firearms. There were a lot of smiling faces by the end of the day. I am convinced of the value of this kind of thing, even when we would ordinarily think we're preaching to the choir.
But I do have to say, I'm amused that NRA has who appears to be Lars Dalseide of NRA Blog fame wear a suit even on the range.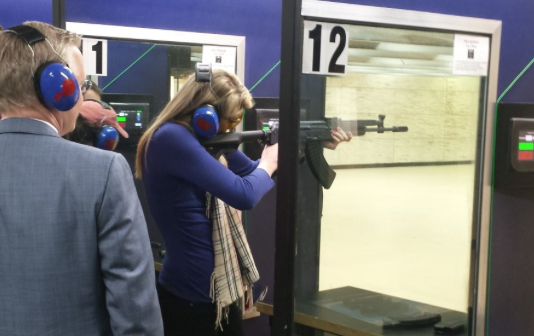 Come into he 21st century guys! Kakis and a button up or polo has been the business fashion since at least the 90s. Click on the photo to see the rest of the photos.