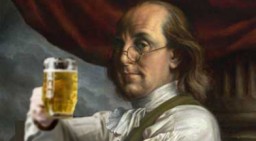 A few years ago, a bar tab was discovered from a farewell dinner for George Washington, and it went around the Internet, stunning people with disbelief that any group of people could drink that much and still be able to walk home. Bitter was researching lineage societies in Philadelphia, and came across the St. Andrew's Society of Philadelphia, for Pennsylvanians of Scottish birth or ancestry. I'm not really into joining lineage societies, but most of them keep genealogical records. Bitter came across this amusing account:
"At the Annual Dinner in 1762 Benjamin Franklin was one of the guests. It was reported that the [St. Andrew's] Society was charged for replacing a considerable number of broken wine glasses and also for replacing three chairs, all reputedly broken by Mr. Franklin. A member of the Society subsequently waited upon Franklin and called to his attention the amount of damage he had caused. Mr. Franklin, however, far from offering to pay up, suggested he come to the next meeting to see how much more damage he could do. He apparently was a perennial guest at the Society's annual dinners, but not the following year, when the members unanimously declined to extend an invitation!"
So I guess Dr. Franklin wasn't the kind of guy you wanted to invite to dinner if the liquor was going to be relatively free flowing.