Jun 5, 2014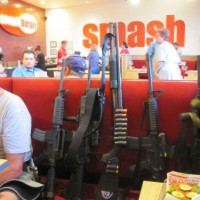 Noticing a picture displayed by OCT at Smashburger, Lagniappe's Lair notes:
Now aside from the fact that about half of those unattended long guns appear to be "leaning with intent to fall", A zoom on the AR to the far left, closest to the bald bozo in the Cabela's shirt, reveals that the safety selector is vertical to the rifle, meaning that it's set to FIRE. Two of the other ARs have their safeties obstructed by slings or camera angle, but I'm willing to bet that at least one of them has it's safety disengaged, too; that's just the sort of half-assed idiots that these half-assed idiots are.
Go have a look for the close up shot. A reader mentioned today that if OCT didn't exist, Bloomberg would have to invent them. This is truth, so God help us. I can't imagine what an ND would do to the movement if it happened in one of these "educational" events. These folks have demonstrated they are fundamentally without good judgement. My concern is that poor judgement will be exercised in more areas than just public relations. Just look at the photo from Lagniappe's Lair; if you were intent on making off with a gun, how much would you bet you'd be out the door with one of those ARs before the people not paying attention to what's going on behind them even notices?
Bob Ownes of Bearing Arms also looks at the safety violations committed by this group. He correctly notes that muzzle down on a concrete floor is NOT a safe direction. If a firearm discharges, the bullet will likely ricochet off the floor, while also simultaneously sending fragments of concrete out in random directions with enough force to seriously injure people nearby. The safe direction is up in this circumstance.
All this has me thinking I need to start a new category "Clown Show." I hate putting this stuff in Gun Rights, or even Gun Rights Organizations. That gives them too much credit. Even "How not to Win" is generous.
30 Responses to "Gun Safety Issues with OCT Events"