Technically, Day 1 of the National Rifle Association Annual Meeting & Exhibits in tomorrow, but we managed to get started a little early since we arrived early.
Before we even managed to make it to our first stop, we ran into Tom King of the NYSRPA. They have a booth here and are apparently planning a raffle for some gun. I'll check it out when they are fully set up tomorrow. Then, we ran into Dave Adams from the VSSA who can always be counted on for fantastic insight into the Virginia legislative happenings. We actually discussed an issue that came up before their General Assembly dealing with releasing license records because it turns out the genealogy community was actually involved. Random, informative discussions all around, especially since we're likely in the same boat as Virginia for a while – purely defensive with very little chance of pro-Second Amendment measures moving in Pennsylvania.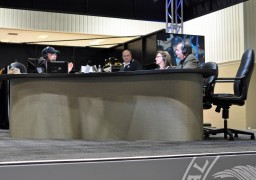 After that, we connected with Scott Bach of the ANJRPC while he was doing an interview on NRA News with Cam Edwards about the magazine ban in New Jersey. Seriously, we need to find some folks we know here who are from states where we can cheer some good news.
We actually did meet folks from Utah at GunAuction.com who could boost some spirits with the CLEO shall sign bill becoming law. We also talked about why some pro-gun issues just don't get much support in a solidly pro-gun state where people don't really feel like their rights are under serious threat.
Then, our evening took an interesting twist when we tried to go out to eat dinner. I had checked out Yelp reviews before we left for times when were looking for something in walking distance and found Claddagh Irish Pub. However, we discovered upon arriving that they thought a brilliant business decision during a gun rights convention would be to post against guns at the door. They are certainly free to do that, and we were free to turn around and walk up the street to The Weber Grill which had no such sign where we discovered AMAZING bbq. Seriously, it's a little spendy for bbq, but worth every penny in every bite. I'm a little embarrassed at how quickly I inhaled my plate. Another thing I was free to do was to let people on Twitter following the #NRAAM tag know about the posting at the first joint. It just happened to get retweeted to a few thousand people talking about the convention…
After that, catching a drink ended up turning into a chance to talk to Prof. Robert Cottrol and Dave Hardy. I think that Sebastian may end up with some interesting post topics stemming from these discussions.
Tomorrow is the NRA Foundation Law Seminar, and I hear it's going to be absolutely packed with pro-gun attorneys and other supporters. I have no doubt that will be interesting. Overall, Day 1 of our NRA convention experience was pretty good. It was mostly just catching up with people, and we clearly need to work harder to create more reasons to celebrate when we get together rather than mostly having to talk about why things are a struggle in many states. I think that's a goal we can all drink to, something I'm sure I'll do plenty of tomorrow!