Dec 3, 2013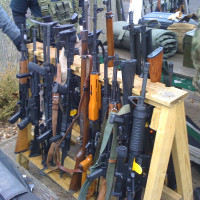 The issue of Massachusetts gun licensing delays is getting attention from non-gun sources, and they highlight the reports of nearly 1,000 gun owners who have had their licenses delayed past the point of the state breaking its own laws.
The article highlights a Senate Democrat who notes that this squarely falls on the shoulders of the Deval Patrick administration, and they include the fact that Attorney General Martha Coakley is refusing to investigate why the state government is violating the law, nor will her office even answer public questions on the matter.
Sadly, this isn't new to Massachusetts gun owners. The government there has had a history of delaying licenses that are needed in order to continue lawfully possessing your guns. It was an issue when I lived there and had to get my gun license.
2 Responses to "Massachusetts Gun License Delays"