Tomorrow, a new group claiming to represent America's gun owners will launch that claims to be for "SANE" gun ownership policies. Their goal is to be an alternative to NRA on everything, including safety and firearms education. Yet, they also proudly declare that none of them are experts on firearms handling. That's not their only disconcerting claim.
R + P CEO Waylan Johnson, a petroleum magnate, tells Whispers he hopes the group will also set itself apart by being more focused on members than the NRA.
"The NRA represents the firearms industry. There's not a lot of membership input," Johnson says.
This was a quote, presumably said with a straight face, by a man declared as CEO by an organization that, according to their own "Join" page, doesn't appear to have a mechanism for the membership to vote on the leadership. Meanwhile, the supposedly firearms industry-run NRA sent out 1,718,786 ballots for NRA members to vote on the organization's leadership this year.
There are so many over-the-top claims that this group is making, it's really laughable that any reporter gave their PR girl the time of day. For example, their number one priority for use of member dollars? "Helping to Identify and Get Treatment for the Mentally Ill to prevent firearms abuse" So are they a mental health organization with professionals on staff to identify mentally ill people? Everything I've found about the leaders indicate that their backgrounds are in IT, energy, and other business ventures. How will these non-medical professionals designate appropriate treatment that will supposedly focus on preventing firearms abuse? They say the money will be spent on such treatment, so prospective members have a right to know about these programs they claim they fund.
This new American Rifle & Pistol Association says that their number two priority in using member dollars is to "Promoting Programs Aimed at Getting Illegal Guns off the Streets," yet they tell us nothing about how they define an illegal gun or what those programs look like. Does that mean member dollars will be used to fund gun buybacks that often collect and destroy antiques and collectible firearms? Does it mean to support a registration system for all gun owners? There are all sorts of things such a broad message could mean.
The group wants you to know that they will give members "Representation before Elected Officials on behalf of the Voice of the R+P Membership," presumably by the leadership team who have never made any donations of any kind to any officials as documented by OpenSecrets.org and the Texas Ethics Commission. In fact, the leaders want members to feel good about the fact that they have no background in lobbying and that they are NOT experts in the new field they will start lobbying in. Talk about convincing members that they are in the very best of hands…
For a group that claims to want to make sure that gun owners are trained in "SANE" handling, they so far refuse to share any information about their supposed "competency training and certification courses" that will presumably be developed by their non-expert leaders who are not actually elected or accountable to members. Unlike NRA-ILA's library of resources on various issues that explain topics and give a general indication of their positions on the specifics of firearms policies, R+P provides no such information for prospective members. I guess their idea of "member-centric" is to keep prospective members in the dark about their actual planned lobbying efforts so that it's all a big secret until you hand over the cash.
I'm curious how long the 15 minutes will last for this new astroturf group. I'm also curious as to how long they will continue the Horrible Capitalization Abuse on Their Website.
UPDATE: It turns out that the Enemies Of Proper Capitalization Use are also not such fans of gun ownership as they claim. (Thanks to reader Andrew for the tip.)
Here are the screenshots that show the Connecticut converted to Texan Chairman of American Rifle & Pistol Association who is an Obama supporter who is pushing Bloomberg/MAIG's gun control campaigns while helping to promote Moms Demand Action, a group trying to pressure companies to ban lawful concealed carry so gun owners can't carry in public anymore and convince gun retailers to stop selling the most popular guns in the country.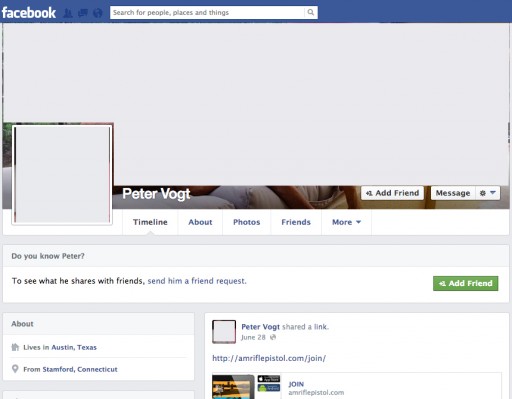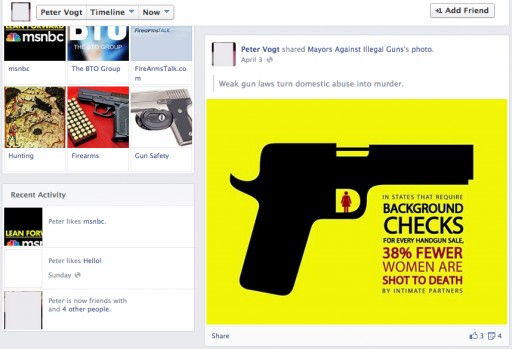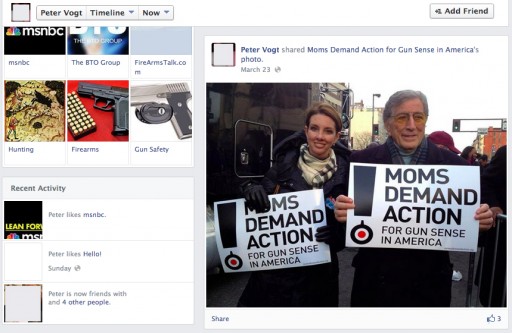 Mike Bloomberg isn't the only gun control supporting New Yorker that Peter Vogt promotes, as evidenced by his repeated sharing of a NY-based website run by people who believe that Senators supporting Second Amendment rights deserve the label of child killers.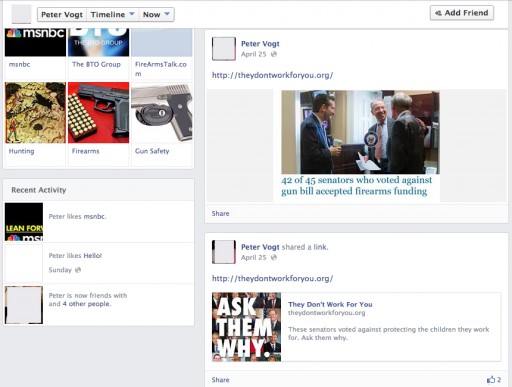 Vogt is also a fan of New York lawmakers who are more interested in name-calling against gun owners than actually trying to have a conversation about concerns for Second Amendment rights.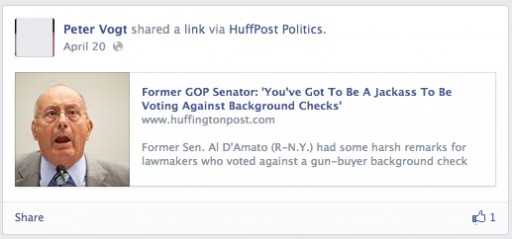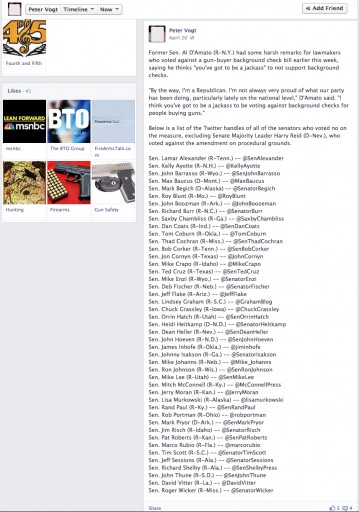 These are the publicly shared views of American Rifle & Pistol Association's leader, and it certainly does not appear to reflect someone who is actually concerned with protecting the individual right to bear arms. These shared materials reflect an ally of groups that would take your guns without a trial, ban licensed concealed carry owners from even getting a cup of coffee at the most common coffee house around, and who thinks that gun owners with concerns about federal legislation are just little jackasses.
Just like the concept of "member-centric," I don't think that the leaders of American Rifle & Pistol Association actually understand the concept of being pro-Second Amendment.