Jun 20, 2013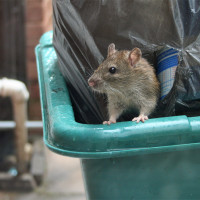 We all know about NYC's Mike Bloomberg illegal mayor problem in Mayors Against Illegal Guns, where he recruits dozens of criminal mayors to work with him at disarming law abiding citizens. But it looks like Bloomberg is trying to help out another type of rat take over in people's lives.
Bloomberg is instituting a composting law in New York City that will ask (initially, then require in a couple of years) residents to store rotting food for a week so the city can collect it. Yes, he is asking entire city of New York to keep food scraps sitting around to attract more rodents and bugs for a week while they wait for the city to send a special collection team to pick it up.
Now, I have no issue with people who choose to composte. In fact, the city apparently did a voluntary trial run on Staten Island that saw rather significant participation rates. But what they don't seem to be focusing on is that those participants lived in single family homes on lots that gave them the option to store the food scraps outside of the living areas. Those who live in high rises will not have that kind of flexibility.
But that's not the only kind of rodents Bloomberg is promoting at the moment.
His Mayors Against Illegal Guns tour continues to garner negative attention for how they define gun violence victims. It's not just the Boston bomber that Bloomberg's group initially labeled a "victim." Did you know that cop killers are victims we must mourn? Jacob also shows us that Bloomberg labeled a man who was shot by police while threatening a toddler's life as a gun violence victim. Mike Bloomberg and his MAIG allies think we need to stop the lawful defensive shootings senseless slayings of these killers targeting law enforcement and children. It's an interesting position to take by a group with a higher-than-average rate of criminal activity.
7 Responses to "Mike Bloomberg's Rats"