Congratulations, Houston. You managed to turn out more protesters than any city since 2004, save Pittsburgh. Unfortunately for your political agenda, that turnout was still under 40 people.
We overheard many conflicting messages. For example, there's the man who says that it's okay to own a two-round firearm for hunting only. Turn to the right, and you find this sign at the rally: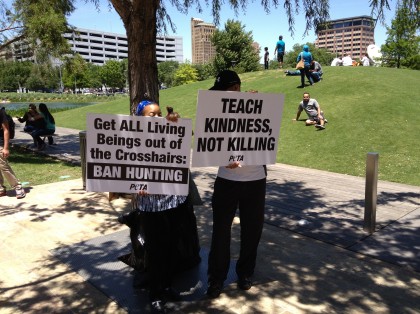 After that conflicting message, one of the protesters pondered why we can't manage to find a middle ground. Gee, I wonder why. (Said protester also wanted to know why we couldn't have a conversation, then he accused me of being a Westboro Baptist Church supporter for being pro-gun. This is why there is no conversation.)
These folks said they they didn't want to take our guns, just promote more regulation. Well, call me paranoid, but when your messaging is that my next firearm purchase (even with a background check) is somehow to blame for death, I don't have much faith that you're being honest about being willing to stop at background checks.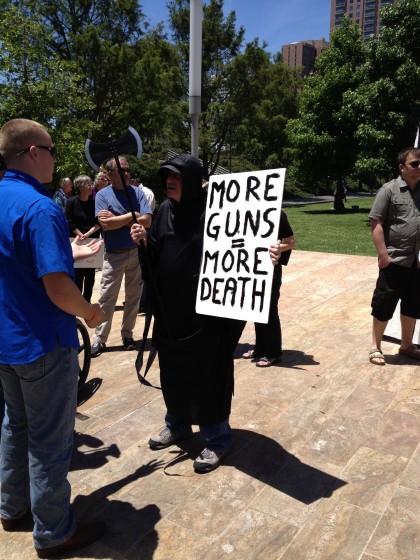 Last night, an anti-gun group on Twitter was proclaiming a "WORLD RECORD" protest because someone stuck around for a couple of hours and read lots of names of crime victims. Somehow, I don't think it set any real record, nor do I think Guiness will be calling them anytime soon.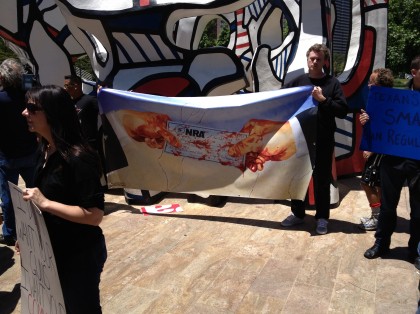 For the people who claim they all in favor of outright democracy and rule of the majority, there was a common theme that they could not understand the concept that they were simply outvoted. It's not possible for them to wrap their heads around the notion that not everyone agrees with their world view, so it must be all due to money.
And, finally, this woman says that her precious snowflake is more important than any of your civil rights.