NRA Blog features the story of a Connecticut couple who happen to share a love of shooting and support the NRA. For the husband's 50th birthday celebration, the wife wanted to get him an AR-15-styled cake since she could not buy a real one from the stripped shelves of gun dealers.
Here's the kicker, she actually had multiple bakeries refuse her business because they didn't want to make "machine gun" cakes. That's right, their hatred of firearms extends to cake that looks like a perfectly lawful and commonly owned firearm. However, a bakery named Jenny-Lu's stepped in and made an absolutely amazing cake.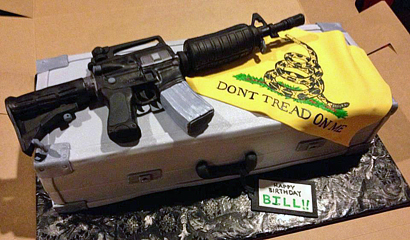 Seriously, if I lived in Connecticut, I would gladly order a cake from this joint. They have also created fun hunting cakes before, too. And, oh dear Lord, the woman posts sinfully delicious photos of homemade Samoa-style cupcakes. Hey, all you gun companies up in Connecticut, order some kind of amazing gun cake for your employees – and get a side order of Samoa cupcakes. And then post pictures of people enjoying them. Because those look divine and the joy must be shared.