Dec 13, 2012
The Washington Post is holding a holiday crafts contest, and 7 entries made it to the finals out of 166 submitted. One of those entries is probably the best shotgun shell wreath I have ever seen.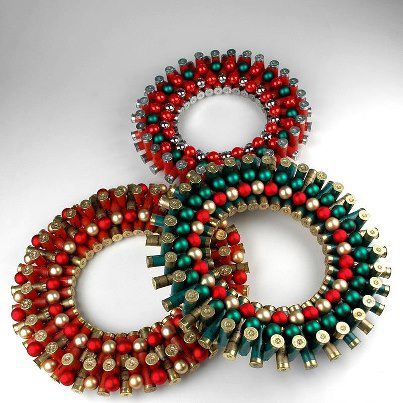 The paper is accepting reader votes for the winner. You know what that means. Go vote.
Help the gun culture win in the popular culture. For what it's worth, their caption on this project in the photo gallery is straightforward with no commentary. They just note the woman who made the wreaths collected spent shells on the sporting clays course of the hunting preserve she owns.
This isn't the only moment of "we're winning" the culture wars of accepting lawful gun ownership I've spotted lately. I was perusing the list of top selling Kitchen gadgets on Amazon the other day, and one of the biggest sellers (#25 at the time) was for a handgun-shaped ice cube tray. One of the next big sellers in the novelty kitchen gadgets was for the ice cube tray shaped like ammunition rounds.
Now we just need to translate that culture war winning into more measurable political and legal wins.
8 Responses to "Winning in the Culture"