Apparently the White House is getting flooded with secession petitions, and this is making its way around the boomersphere (those long e-mail chains you get from your parents). It made its way onto a private group I'm in on Facebook. I find this rather disappointing, not because I don't think the discussion needs to be had, but because I'd rather these people putting energy into petitioning their state legislatures (who can do something to this effect) rather than petitioning Obama (who can do nothing even if he wanted to, which he does not).
I don't think the time for breaking up the United States is here right now, but I think it's healthy for the discussion to happen. Here's a map of places one candidate or another carried the vote by 20% or more.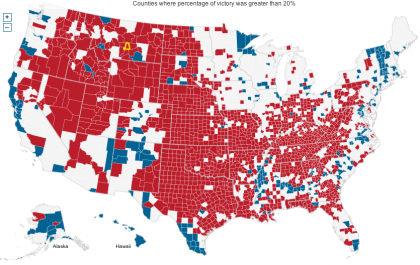 Can a house so divided stand?