Pennsylvania is the first state I've voted in where I ever recall seeing a button that will vote for all members of one party. In 2010, I was pissed off enough to use it. But this year, I didn't press that button. Why? I still voted only for Republicans today, but I have decided after trying it that I really don't like the concept.
Here's a look at a ballot for a precinct near us and you can see the partisan voting buttons at the top: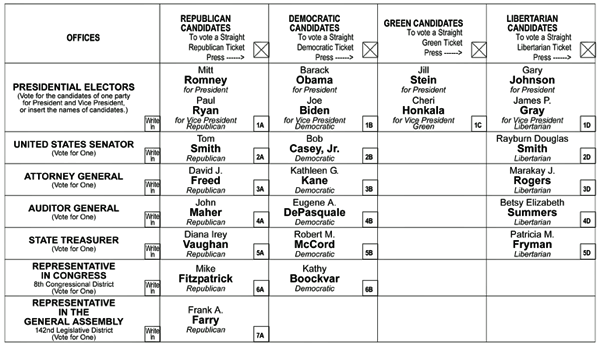 I realize I'm overly idealistic in thinking that it would be nice if people were at least minimally informed voters in every race. The fact is that it just won't ever be true. However, I don't think that the state needs to make it easier for uninformed voters to blindly cast ballots. Perhaps not having a partisan button would make them hesitate before casting a ballot in a race where they admit to knowing nothing about the candidates, or perhaps even the office.
Most low information voters would still likely cast ballots for one party or the other, but at least they'd have to make a bit more of an effort. To me, it's just a matter of making elections a little more principled and a little less about party politics.