Nov 6, 2012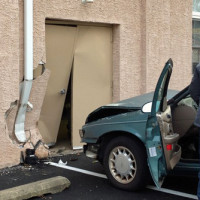 I stood outside for Rep. Mike Fitzpatrick all day in 2010 at a polling location with lots of elderly folks coming to vote. There was one woman driving a car that had all of us – Democrats and Republicans alike – shuffling down the sidewalk away from the doors to avoid being hit. We also all made sure to have our keys out so we could go move our cars if they ended up too close to any of the spaces (yes, plural) she was trying to pull into. Yes, it was really that bad.
Fortunately for us, it wasn't this bad.
According to Jan Laverty, a volunteer at the polls, a man was driving slowly into a parking spot along the side of the fire company when he sped into the building, crashing into a side door that led into the polling place. …

Laverty said that people inside of the building believed the noise, and the accompanying smoke through the door, was a bomb.
So be careful, folks headed to the polls to volunteer. Don't get run over.
One Response to "Standing Up for Candidates Can Be Dangerous"