Joshua Wander, NRA Election Volunteer Coordinator in Pittsburgh, recently posted a story on Facebook about how he was a target of a scam targeting shooting instructors. He says that he was contacted by a person claiming to be from Japan who was looking for a firearms class during an upcoming family trip to the United States. They agreed at a price of $450 for the entire family. That is not what Wander received…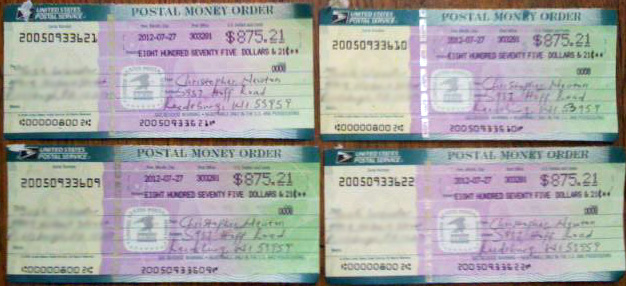 He received four money orders for $875.21 each that comes to more than $3,5000. He immediately recognized what was going on.
This is an old scam, when I call to tell them that they sent too much, they will ask me to deposit the checks and send them back the difference. It will take the bank a couple of weeks to figure out that the money orders are fake!
Turns out he's not the only shooting instructor to be targeted by this classic scam lately. I did a quick search for the topic and found another report.
A few months ago, NSCA (National Sporting Clay Association) informed instructors and clubs of fraudulent activities targeting NSCA Certified Instructors around the country. This week, we have learned of other instructors and clubs who have been targeted with similar schemes.

The instructors and clubs tell us they are being contacted through email by someone who is supposedly setting up a shooting event for a corporate group. Some of the reports say the person claims to be from England.

The person inquires about booking instruction for the group, including guns, ammunition, and other equipment, adding up to thousands of dollars. Some of the emails ask for the instructor's bank account information so he can wire the payment to the bank, while others ask the instructor to handle some US payments on behalf of the group, with a promise to send a money order.
So, if you're a shooting instructor with your name and contact information published, be aware of this scam. While it's a pretty classic case of fraud that most people have heard of, it usually takes other forms like roommate or rental ads, or even purchasing a products. Even if it doesn't cheat you out of cash, it could cheat you out of your time by having to respond to these criminals in their initial inquiries.