You keep using that word. I do not think it means what you think it means. – Inigo Montoya
Two Democratic lawmakers on Monday will announce new legislation to regulate the online and mail-order sale of ammunition. …

"The shooter who killed 12 and injured 58 in an Aurora, Colorado movie theater this month had purchased over 6,000 rounds of ammunition anonymously on the Internet shortly before going on his killing spree, according to law enforcement officials," the statement [from Sen. Lautenberg and Rep. McCarthy] reads. …

Lautenberg and McCarthy, who will unveil their new proposal at New York's City Hall say they intend to "make it harder for criminals to anonymously stockpile ammunition through the Internet."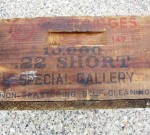 I have a big problem with this proposal before I've even read the exact language simply because of the statement. Think about how you purchase anything online. You have to enter a name and address to have it shipped somewhere. You have to enter a name that matches an address and credit card number in order to pay for it. In other words, there's very little that's truly anonymous online when it comes to ordering products from actual businesses.
However, there's nothing unlawful about walking into a gun shop with cash and buying ammunition. That is truly anonymous. There's no name, no address, and nothing that needs to process through a bank that is connected to the buyer. It's straight up cash and carry from a traditional and highly regulated brick-and-motar gun shop.
So, if Lautenberg & McCarthy are truly disturbed by anonymous ammunition sales, why are they complaining about online transactions? It's just one more piece of evidence that there's nothing serious about their so-called effort to reduce gun violence. It's simply about control – gun control.