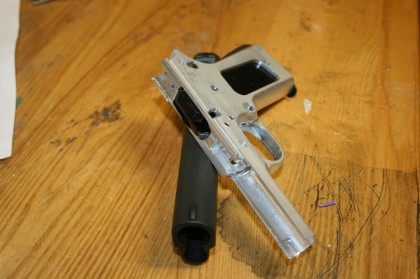 You may recognize the platform. Jason informs me that there's still a lot of work to be done, as everything is not fitting together all that nicely at the moment. The first attempt was sacrificed to the gods of gravity, and a loose fitting. I guess it's a good thing aluminum is fairly recyclable, and 1911s aren't made out of the bones of endangered species, or something. Quite a lot of aluminum has been gone through on these projects that's been sacrificed to FAIL. But he'll have a nice collection of homemade guns when all is said and done, for sure.
For something non-gun Jason was machining, he made a time lapse video to show the progress. I thought that would be neat to do with a gun too, so I asked him. Below you'll find the results of that:
I believe this is a frame that bolts together, which makes it easier to do on the mill.