This weekend I had planned to go to the gun show in Oaks, just to see what there was to see. I've been wanting to grab a Ruger LCP for some time, but having been unemployed for several months, and worried about my job for a year leading up to the dissolution of my former employer, I haven't really been doing much gun wise. This was my first gun show in more than a year. I was worried when a reader sent me a picture of the line waiting to get in Saturday morning: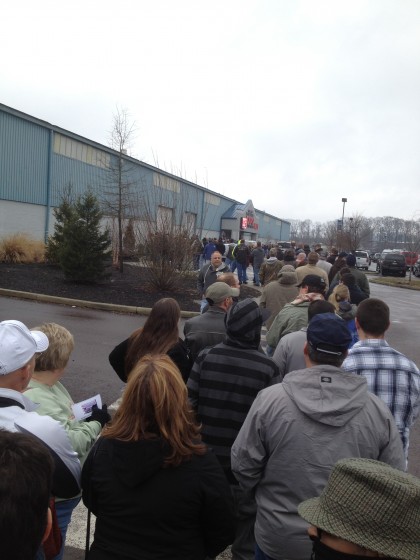 I decided I'd wait until Sunday. Sunday crowds are usually thinner, but with the downside that the show has been relatively picked over by that time, because collectors usually have snatched up all the interesting pieces by then. I wasn't really looking for a collector piece, however, so that didn't concern me. I walked in about 2:00PM Sunday, which would have been two hours before the show closed.
"Holy crap!" I exclaimed to Bitter, "I've never seen this many people at a gun show in my life, and it's Sunday, two hours before the show closes." It was extremely difficult to get around the floor, and were I not taller than most people, spotting guns through the herd was going to be impossible. The LCP is generally going for about $325-$350 at most gun stores I've been to, but sometimes at shows you can find dealers coming down from central and northern Pennsylvania, where prices are cheaper, and who don't mark their inventory up to Philadelphia area price levels. I counted six LCPs left in the show, and one of them was an even $300, from a Columbia, PA based gun store. I was hoping to find a little lower, but getting to go to a gun show and beating the cheapest price in the area by $25 is enough to satisfy me. It took a while to get the dealer's attention through the crowds of people surrounding his tables, but fortunately they were a well oiled machine about processing people through paperwork and NICS. They had at least four people there processing paperwork, and they needed them. While slowly moving my way through the herd, I was listening carefully to what dealers were telling people, and observing the makeup of the crowd. Some observations:
People were crowding around pistol displays. I don't think folks are buying too many rifles right now.
There were far far more women there than at any gun show I've been at in the past. There were also more people bringing the whole family, including the kids.
A lot more African-Americans and other minority groups than I've seen at past shows, and Philadelphia area shows have never been lilly white.
Lots more gawkers than I've ever noticed at a show. I don't mean gun people coming to look, but people who probably have no gun experience coming for, well, the experience. Noticed a couple of, what sounded like Hindi speaking 20 somethings, who's booger hooks went immediately on the bang switch when handed a suppressed .22, with a wide-eyed look on their face like they had never seen anything like this before in their lives. I was relatively amused until the kid turned the gun sideways to muzzle Bitter and me with it, but after that they proceeded on like kids seeing Disneyland for the first time.
Overheard one conversation between a woman and a Class III dealer, where the woman expressed a desire to try shooting a machine gun, for which the dealer happily invited her up to his range to try anything he had to shoot, including something belt fed if she liked. Her response to his invitation was rather enthusiastic, and I didn't get the impression she had been doing this gun thing for a while.
So our opponents in the gun control movement can be in denial all the want; there's a sea change that's happened in this issue in the past several years, and now I've seen it with my own eyes. Guns aren't just for fat old white guys anymore, and apparently neither are gun shows. The political implications of this will play out over the next decade, and it should be very interesting.