Oct 11, 2011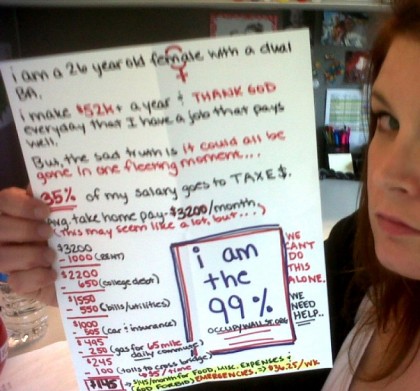 You'd think this entitled and ridiculous lot was the first generation of Americans to get out into the real world and find out the going isn't as easy as it was with mom and pop taking care of you. Just looking at her expenses:
She went into way too much debt in college if that's what she's paying in student loans. I can sympathize, since I did the same thing. But I spent the first few years out of college living with my dad and paying down the loans until I got them to a reasonable level to refinance them.
550 is about what I pay in utilities for a house with two people living it… if I count as a "utility" an iPhone plan and high speed internet. Actually, I don't think I hit 550 with even that. She must have a nice cable package too.
She pretty clearly has a new car if she's paying 505 a month. My insurance is about 100 a month. I don't have a car payment because I paid it off several years ago. Maybe she doesn't really need a new car? I've bought cars for 3000 in cash that have run for years afterwards.
Her commute is 65 miles? Jesus! I draw my boundary at 50, and my earning potential is about twice hers. Maybe move closer to your job? Not like you have to sell a house and cover a mortgage or anything.
Just not feeling the sympathy. Who I do feel sympathy for in this generation are the kids who graduated from college and can't find jobs, because the economy isn't producing any for them. It's been several graduating classes now that have hit the job market during this financial crisis, and unemployment among young people is sky high.
But even there, they voted for Obama in large numbers, and his health care fiasco is a big reason companies are reluctant to hire right now, because all anyone knows about it is that it's definitely going to be expensive, and probably a lot more expensive than anyone really thinks. How's that hope and change working out for you now?
36 Responses to "Adulthood Sucks Doesn't It?"