Irene is moving on to bigger and better things, but we're getting pretty severe wind gusts on the back side of the storm. Power could still go out, but since the rain has moved on, Â any power outage now the backup pump will handle just fine. But if we do lose power, the blog will be offline for some time, as they have so many customers out, they say it'll be days before we get power restored. On the bright side, I could use my big old marine deep cycle battery to buy some extra time for the blog and Internets.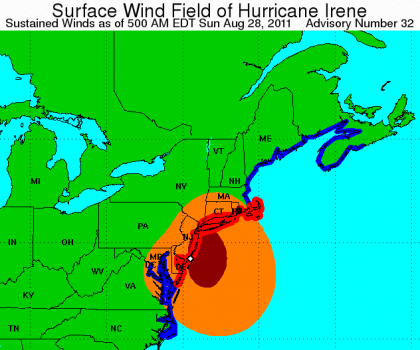 All I have to say is that people who live in Florida must be nuts. This was the first hurricane to strike the Jersey Shore in my lifetime, it was a category one, and I'm 50 miles inland. One of those for one lifetime is quite enough. I have never seen that much water in my life, and the records they are reporting for flooding back up that assertion. I literally had water shooting out of my basement walls. The local creek apparently is cresting 17 19 feet over flood stage.
We came out of this very very lucky, as we did not lose the power necessary to keep the basement dry. I hope I never again have to rush to clear out my basement while I watch the neighborhood excrement rise higher and higher in my utility sink, watch the water level in my sump pit rise as the intake overwhelms pump capacity, all the while worrying about a power outage forcing us to the backup pump, which would have no prayer of keeping up.
Now we have to put everything back in a dry basement, which will probably take 3x longer to accomplish than moving everything out did. But I'm grateful for that. We were quite close to a massive catastrophe insurance wouldn't have covered, but were were spared. Thoughts and prayers go out to those who did not weather the storm as well as we have so far.
UPDATE from Bitter: Apparently, they are evacuating about a 3/4 of a mile from us due to the creek today. Fortunately, that distance is uphill so it's no threat to us. The crest should happen in about an hour and then start to recede.
UPDATE from Bitter: About 2 hours later, and the local creek crested at 19.5 feet above flood stage and is now receding. There's an apartment complex nearby that was evacuated in the last couple of hours due to sewage leaks & possible gas leaks. I admit, most of our neighbors appeared to have gone to bed last night based on how few had lights turned on when we looked out windows. I wonder how many are cleaning up sewage in their homes if they weren't on top of the flooding.