Apr 17, 2011
Busy weekend of home improvement. Actually, perhaps home improvement isn't the right word. More like keeping the home from going to hell, which I spend enough time doing that I never seem to get around to any actual "improvement." This house is now about 25 years old, was never properly constructed according to code (built by the first owner, who was an incompetent builder, according to neighbors.) This is the kind of incompetence I'm talking about: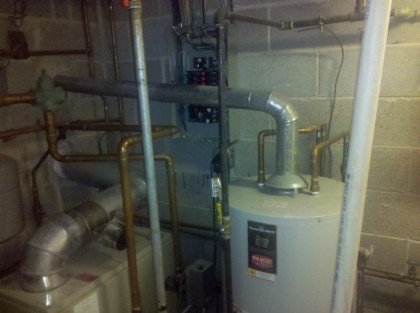 Note the location of the electrical panel. I even uploaded it to Fail Blog (Please vote for my FAIL. The guy who built the house is dead, but it'll at least make me feel like I exacted some karmic measure of revenge.) The basement is finished, so options for where appliances go is pretty much limited to this corner.
Since I can't really reach the panel without contorting my body in ways it was never meant to, relocation is going to cost more in time, money, and aggravation than I'm willing to spend right now. I decided to see if I could work with what I have. First order of business is to map out where all the circuits go. No one ever did that. Any time I've done electrical work on this house it's involved flipping breakers until the circuit I was working on went dead. So now I know where everything goes and have a chart of the breaker layout and what's on those circuits.
The bus bar stab the two fried breakers were on I'm considering effectively dead, because I'm fairly certain the stab is heat damaged. But he bus bar itself looked OK. Took a trip to Lowes and got two new circuit breakers, and an infrared thermometer. I had a spare stab at the bottom of the bar, so I used that and moved one of the lighter circuits to it. The heavy loaded circuit with the dishwasher I moved to the top, and put a new breaker there too. That left the sump, which was connected to the other breaker. Sumps need a dedicated circuit, so I took two circuits that were pretty light weight and tied them together. That got me the sump back on its own circuit. Running the dishwasher, and a few other heavy appliances shows the box running at 75 degrees F, and the busbar at the same temp. No localized heating where the fried breakers were. Not much higher than ambient temperature. Only hotter spot is the GFI breaker at 81 degrees, which I would expect.
Took less time to do than I had on the UPS that powers the blog an Internet in the even of power failure. Long term I will replace the panel, but probably not until I'm close to selling. The solution I've thought up is to put in a tankless water heater, which would recover a lot of working room, and allow the panel to be shifted over a bit to get the 30 inches NEC requires.
12 Responses to "Electrical Problems Fixed (For Now)"