Apr 15, 2011
Bitter and I have been noticing an odd odor in the house every time we run the dish washer. It was kind of a putrid, cat urine kind of smell. I had figured maybe a mouse had decided to make a home in the insulation and had died. I intended to yank the thing at some point. Wednesday night that odor was considerably stronger, enough for me to identify it as an electrical smell. Checked around the house and couldn't find anything that was the culprit. I figured the dishwasher might be on its last leg, so told Bitter to stop using it. Came home last night and she said some lights weren't working. Crap. Go check the breakers and they are all in the on position. So I start tripping them, until I hit one that just rocks back and fourth like there's nothing in there: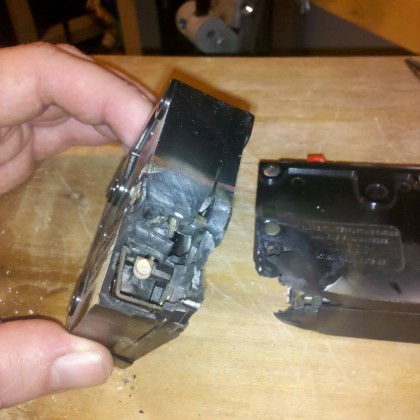 Two, completely dead. Judging from how discolored and soft the blade on the bus bar is, my guess is that over the years, it's become something less than pure aluminum, causing it to heat excessively. Some of the plastic cladding holding the bus bar in place melted down. The two breakers below it function, but their cases took some damage too. The whole panel needs replacement. That normally would be no problem, except when the doofuses who owned the house previously replaced the boiler, they completely blocked access. I can reach it enough to work on it, but it'll be difficult and tiring. Bitter can't reach the thing to even trip breakers back.
The other problem is PECO won't pull the meter and reconnect without confirmation that I've met code, which means permits. This probably means a licensed electrician. Because of the boiler, one with exceptionally long arms. Or I have to pull the boiler out and reconfigure it so there's room to work. I accept permitting for major work or renovation, but by this standard I'd need a permit to swap out a faulty main breaker. That's not safety, that's extortion. And how am I supposed to function while I wait, without any power, for the township's code enforcement to show up to inspect the work?
36 Responses to "Lucky The Blog is Still Running"