Nov 28, 2010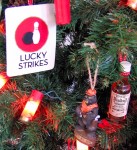 Starting tomorrow, I'm going to get the formal living room cleaned and rearranged for the Christmas decorations to come out. The ATF tree will make an appearance again, but it will have a few improvements over last year. The quest for more themed ornaments has led to a few interesting conversations in public, including a lament on why Macy's would have a cowboy-themed tree and not sell any gun ornaments.
I have a ton of craft gear to make some more tobacco-themed ornaments. If anyone has suggestions for cool names or designs for retro-looking cigarette or cigar packages, please share here. I'm in desperate need of some inspiration. I've got lots of art deco and victorian type stickers and jewels in my little craft box.
One of my favorites is the pack of "Tarletons" that I made up. There was apparently a real brand of cigarette called Tareyton, but I didn't find any of their ads that inspired me to copy their look. Instead, I thought of the Tarleton twins in Gone with the Wind. I mixed a blue shade of paint, pulled out my blue and silver jewel stickers, and created a very elegant & shiny box loosely based on their jackets & the feel of this scene:
[youtube]http://www.youtube.com/watch?v=NUzNiY0FgVE[/youtube]
That got me thinking that I might turn to more movies for some cigarette name & design inspiration. Got any suggestions? I've debated something Red Dawn-related since that's the ultimate gunnie movie and it seems like it should be represented on the ultimate gunnie tree.
9 Responses to "It's That Time of Year Again"