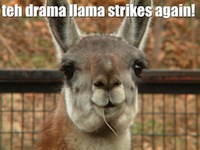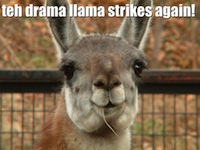 While I was happy that in the last episode of History Channel's Top Shot, Caleb seemed to have finally learn his lesson about hostage shooting, it would seem that this episode caused Caleb to be eaten by the Drama Llama, having been eliminated after being compared to several species of the order Rodentia, and possibly the Mustelidae family as well (I'd have to go back and watch again).
Several people have stepped up to defend Caleb. Chris Byrne makes some very good points. Les Jones also makes some good points. I will stake out a middle position of saying Caleb is neither rat, nor fink, or any member of the Mustelidae family for what transpired on last night's Top Shot. But I don't agree he took the high road, because I'm not sure there's much high road to be had. It's not a shooting competition, where sportsmanship and excellence play the biggest role. It's reality TV. Shooting is relatively incidental; a backdrop for the drama. Caleb was trying to survive the game, same as Adam. Any fan of reality TV shows knows that the nice guys often finish last. I'm not going to blame anyone for setting up voting blocks or otherwise thinking strategically about how to get to the end of this game. Adam probably figured he needed a voting block to get rid of some of the top shooters on his team if he wanted to have any prayer of winning. Caleb probably figured he was better off currying favor with the top shooters on the team. Unfortunately for Caleb, that turned out to be a bad political move, and you only get to make one of those, unless you're a really good elimination shooter, which Caleb almost was.
On to the shooting. Â In the last episode before this one James made me cringe where in a shooting style that called for a more tactical stance he took a traditional high-power style offhand shooting stance — very good for accuracy, not very good for speed. In this episode I cringed when Caleb chose a tactical stance for what was looking like an accuracy game. I think the fact that the target was basically rotated 90 degrees threw them both off from what they practiced on, and evened things up a bit. I think a more traditional stance would have worked out better, because you would have been more stable, and still been able to work up a reasonable volume of fire needed to sever the rope. But this is arm chair stuff… if Caleb ever hosts the gun blogger competition he's talked about, I totally want to try traditional vs. tactical stance and see which one works better for the rope shot. I suspect that kind of game is something a silhouette shooter would be good at — we don't have all day to aim at our targets like slow-fire standing in high-power shooting, but we still have to hit with reasonably good accuracy at long distances.
In other news, I think I really need to get a flintlock muzzle loader. It looks like fun. Anyone know a decent brand? I know little about smoke poles.