So since it seems like we're going to get DISCLOSE rammed down our throats by the White House, it's worth taking a look at the chess board and seeing what we stand to lose. It should be noted that at this time, the White House seems to be sticking behind Van Hollen's promise to proceed with the large group exemption. Because many folks were quite emotional about the NRA deal, I'm going to take a cold, hard look at just what is at risk with this bill from a movement wide perspective. But in order to do that, I should first explain what kind of activities DISCLOSE regulates. DISCLOSE only regulates electioneering activities for federal office.This means advocating for the election or defeat of any specific candidate for federal office. It doesn't not include advocating on behalf of a bill, lobbying (though there are some implications if you're a group that lobbies or are a lobbyist), educational efforts (which can include voter education, and issue education), or most personal communication about political topics. It is limited only to advocacy on behalf or against a candidate for federal office. NRA does a quite a lot of all these things, but few groups have much in the way of an election apparatus. Let me explain.
Most groups tend to do electioneering activities through their Political Action Committees or PACs. NRA's PAC is the Political Victory Fund. A few other groups have PACs. But let's look at the monies at risk here: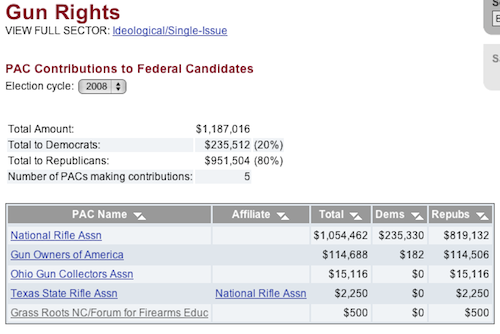 This is the bread and butter when it comes to electioneering. NRA spent a bit over a million dollars in funds directly to campaigns in 2008. That was nearly 10x more money than Gun Owners of America spent, and for pro-gun Democrats it's more than 1000 times more than GOA spent. The other groups here are so low on their spending as to not even being worth mentioning. But we shouldn't just look at PAC giving just to candidates. Let's also not forget independent expenditures, which in the 2008 cycle amounted to about 18 million dollars, 13 million of which was against anti-gun Democratic Candidates. By contrast, GOA does very little in the way of independent expenditures, with most of their money going directly to candidates. So far for the 2010 election cycle, NRA's independent expenditures amount to more than 76 times that of GOA's.
So why pick GOA for comparison? Because they are the only other group with PAC spending that's even on the radar screen at all. SAF, a non-profit organized under 501(c)(3) of the tax code, cannot legally participate in electioneering or independent expenditures without putting their tax status at risk. The are not affected by DISCLOSE, so their ability to speak in the electioneering domain is not at risk. JPFO also shares the same tax status. But what about other national gun rights group, like Dudley Brown's National Association for Gun Rights (NAGR). They've been some of the most outspoken critics of NRA for DISCLOSE. Well, they don't have a PAC, or if they do, they spend no money to show up on any radar. NAGR doesn't even have a lobbyist registered on the Hill, so how they are promoting gun rights is beyond me. What about Citizens Committee for the Right to Keep and Bear Arms, which is SAF's 501(c)(4) sister organization. They don't have a PAC it seems. They do, however, have a lobbyist registered on Capitol Hill. Given that they are spending little on electioneering activities, they aren't putting much of anything at risk maintaining opposition to the bill even when the exemption was offered to be lowered to 500,000 members. GOA has some money for electioneering at risk, but compared to their other spending and income, it's a small amount. Compared to the overall movement it's a puny amount.
So purely from a numbers game, if you're making the call, do you put NRA's entire electioneering machine at risk to try to save GOA's which is orders of magnitudes smaller? I argue it would be irresponsible for the movement as a whole to do that. Many people speak about principles. Principle is the name of the hill you're going to die on in politics if you fight based on that alone. Principles are a guide through the process. They are not the process itself. The process itself is a high complex strategy game. That has to be kept in mind.