The last several years, I've posted various facts and figures about NRA membership and participation as told through the lens of votes in the board of directors elections. I know a few people find it interesting, but I always wondered if there was really a purpose. It turns out that it did serve a purpose. I learned that one of our endorsed candidates this year actually found the data when he was looking to run, and used it when making plans for his successful campaign.
In that spirit, here's the latest data & analysis of how NRA members vote (they don't) and how you can make a difference (it's easy) if you want to see certain board candidates rise or fall on the ballot.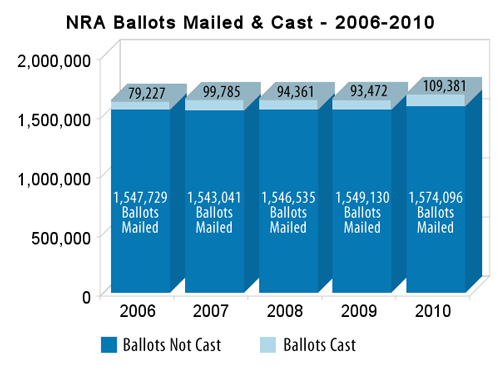 There was a significant jump in both the number of eligible voting members this year, and the dramatic rise in the corresponding number of ballots cast. This tells me that either NRA is reaching new, more excited members or the number of people taking the plunge into life memberships may be increasing. I wondered whether there was there could be a subtle influence from the tea party efforts to educate their members on how political parties work to take them over, as such lessons could easily be applied to civic organizations like NRA.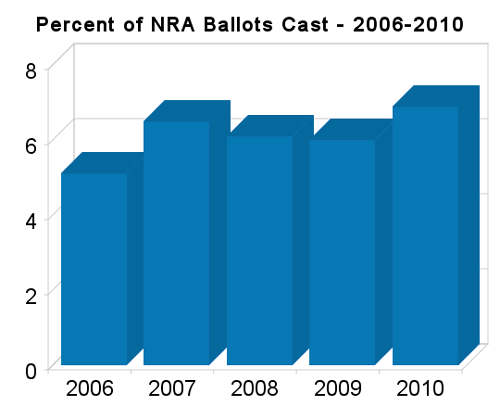 Since the large numbers make it harder to see trends, let's look at the participation rate for the last few years. You can really see that spike. It's also worth noting that the next largest number was 3 years ago – the last election for nearly the same slate of candidates. Then I realized that the spike was probably predictable if we saw a jump with the same batch. What causes it? Easy, this is a celebrity ballot. Ollie North, Ted Nugent, Susan Howard, Richard Childress, and Karl Malone. That doesn't include other widely known political names on the ballot like Don Young, Bob Barr, Matt Blunt, and Larry Craig.
One surprise from this year's election was not just that Joaquin Jackson won, but how well he did (14 of 25). Apparently the current crop of NRA board voters don't realize that he threw a significant number of gun owners under the bus, or they just don't care. Alas, that means he has three more years in which to put his foot in his mouth as a board member.
What's so frustrating about this is that it is so easy to make a difference in an NRA board election because so few people take the time to vote.
"Losing" Candidates
Vote Tallies
Difference from
Previous Candidate
Donn DiBiasio*
63,817
752
Steven Schreiner
62,710
1,107
Carol Hallett
61,850
860
Kenneth Hanson
61,479
371
Leo Holt
59,666
1,813
Marion Townsend
55,157
4,509
*Elected 76th Director at the meeting. Interestingly, this is the 2nd time he has "lost" and managed to earn a seat for another year.
Just 752 votes determined the "last winner" and "first loser" this year. Last year, it was 725 votes.
If you have a preferred slate of candidates, share them with every voting member you know. Do it quickly after the ballots arrive in your mailbox, or those folks might throw their ballots away. Just like in a political race, a personal endorsement from someone a gun owner knows or respects can carry a lot of weight. In fact, in a race like this where many of the candidates are unknowns, these endorsements make a much bigger impact. It's why we try to highlight our absolute favorites on the ballot each year. (We vote for more than we list in our endorsements, though usually not for a full slate of 25.)