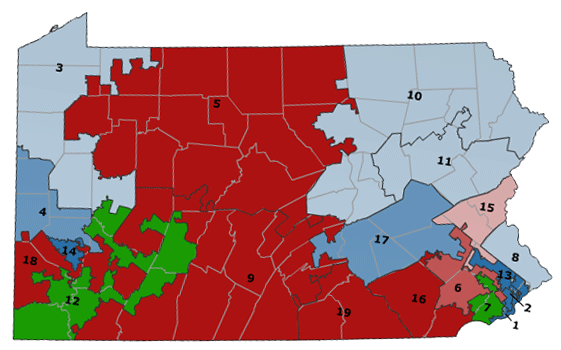 I posted Charlie Cook's most recent analysis of Pennsylvania over on PAGunRights this morning. Â It's an interesting mix of green (total toss-ups), red, blue, and purple in the Keystone state this year.
Good news for the GOP: They have more solid seats up this year than Democrats. (5-4)
Good news for the GOP: The four total toss-ups (2 Congressional, 1 gubernatorial, & 1 Senate) are all currently or most recently held by Democrats, so it's possible to make huge pick-ups.
Good news for Dems: They have more "likely" seats. (2-1) Â As in, those races are still competitive, but they still lean more favorably in the incumbent's favor.
Questionable news for Dems: They have more "lean" seats. (4-1) Â On one hand, you can argue that these seats are good for them, because they are leaning Democratic. Â On the other hand, the direction they are headed is toward the toss-up category, and all of their guys are incumbents.
In our backyard, it's good to see Patrick Murphy in the danger zone marked "lean." Â On the other hand, I'm just not feeling it on the ground. Â I don't know of anyone who is enthusiastic about the likely GOP primary winner – at least outside of GOP headquarters where they are actively chasing away anyone who utters the term tea party. Â These are the same folks who lost the seat and who lost the Republican registration advantage previously enjoyed in the county. Â So seeing them get excited doesn't exactly give me much hope or confidence.
Personally, I plan on directing my election work outside of the district to state level races over in Montgomery County. Â The Congressional seat may be safely blue, but the state rep and senate seats are by no means safe for Democrats.