Mar 31, 2010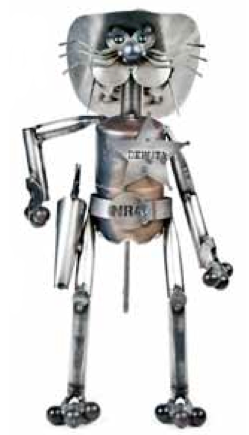 Last night Bitter and I attended the Philadelphia Friends of the NRA Dinner. Normally I have pretty good luck at these things, but went home empty handed last night. That's a real shame too, because I absolutely wanted to win the auction for the NRA Deputy Cat — an approximately two foot tall cat sculpture made out of scrap metal. Unfortunately, the bidding got a little too rich for me on that item.
While I think hardly anyone could disagree that the world needs more NRA Deputy Cat, a good reason to go to Friends dinners, other than to help out NRA's shooting programs both nationally and in your state, is the fact that you stand a pretty reasonable chance of walking away with a gun. I've generally had good luck at Friends events, and have won both a gun and a locking cabinet. I also picked up a pretty nice wooden NRA branded tool chest at silent auction.
It was very good to see that NRA can still fill a pretty large venue even in Philadelphia. The Philly folks were playing the raffles more than participating in the auction, but everything raises money at the Dinner since all items are donated. I spent about 200 dollars on the raffles, hoping to have a good chance as either a Ruger LCP, a Weatherby Shotgun, a Glock 22, a Kimber 1911, or a Weatherby 12 gauge. But it wasn't my lucky night. I didn't win any guns, or the 50/50 drawing. The guy who won that took the 800 dollars and spent part of the money to buy a Remington 700 in .300 Win Mag at auction, which effectively donates the money back to NRA. Since all the guns they don't raffle get auctioned, you can actually get some pretty good deals if everyone in the room already blew their money on the raffles, which seems to have been the case tonight. Some of the more expensive stuff was going for a bargain. Not NRA Deputy Cat though. Damn! I had just the place for it too.
5 Responses to "Philadelphia Friends of the NRA Dinner"