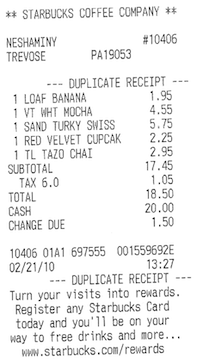 If you haven't gone down to your local Starbucks and gotten some caffeination or other product, please do. It shows them that there's a lot of upside to staying out of the gun debate. I myself am a tea drinker, but I really like their Chai Lattes (it's like pumpkin pie in a cup), so that's what I got. I have also sent the following along to Starbucks Corporate:
Just wanted to let Starbucks know that I, along with several of my fellow Second Amendment bloggers, encouraged our readers to show their appreciation for Starbucks today by going to purchase Starbucks products.
Our blogging community focuses specifically on firearms policy attracts many thousands of readers who are pro-Second Amendment. My blog alone brings in about 60,000 visits a month. Many of us were looking for a way to show appreciation, and thought there really would be no better way than picking a day to encourage our readers to patronize their local Starbucks.
We thank you for resisting pressure from the Brady Campaign to Prevent Gun Violence to make a statement in regards to this contentious issue. We would encourage Starbucks to continue to concentrate on great products, and service, and encourage you to continue deferring to state and local laws in regards to this subject.
Sincerely,
Real Name (a.k.a. Sebastian, author of Snowflakes in Hell Blog)
http://snowflakesinhell.com
I wanted to focus on showing them the kind of numbers we're talking about on our side of the issue. The Bradys have 25,000 signatures, they claim. Big deal. I rack up that many eyeballs on this blog in two weeks. If half of my monthly readers spent what I did, that's $600,000 dollars extra sales, which based on daily sales figures, would represent about a 2% boost. Even if the number is less than that, you can see our numbers, just in this small corner of the blogosphere, are nothing to sneeze at.
I would encourage all of my readers to continue patronizing Starbucks not just today, but for as long as they agree to stay out of this issue, and stand up to the Brady Campaign.