Sorry about the outage folks, but we were without power for 14 hours due to the blizzard yesterday. As soon as the wind kicked up, it was pretty much over. I had to get creative to keep the house and pipes from freezing up overnight:
Fortunately I have a backup sump pump that's powered by a car battery, so I hooked that up to an old inverter I had laying about and punched its output into the junction box for the furnace. The furnace is gas, so you really only need power for the controller, the circulator pump, the flu check, zone valves, and gas valve. Fortunately all those seemed to come in under the 125W rating of the inverter.
Of course, we did manage to keep the most important piece of equipment in the house functioning as well: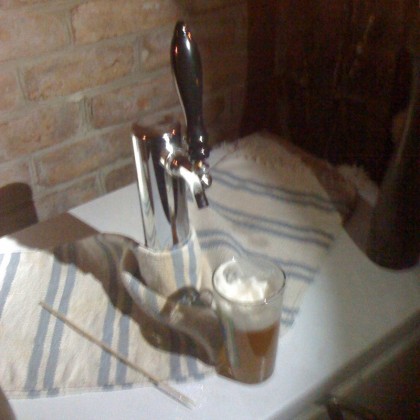 Fortunately for me this piece of critical equipment requires only a CO2 bottle to operate. Sadly I can't keep the blog going through a 14 hour power outage, so I apologize for the downtime. All this is making me think about a generator, but I know if I get one we won't lose power for more than 20 minutes for the next 5 years.