Here's a state map of the Amicus Brief favoring the Supreme Court taking up the Incorporation issue and ruling in favor of it.   Those in favor are in red, those who did not sign on are in blue.  You can click to make it larger.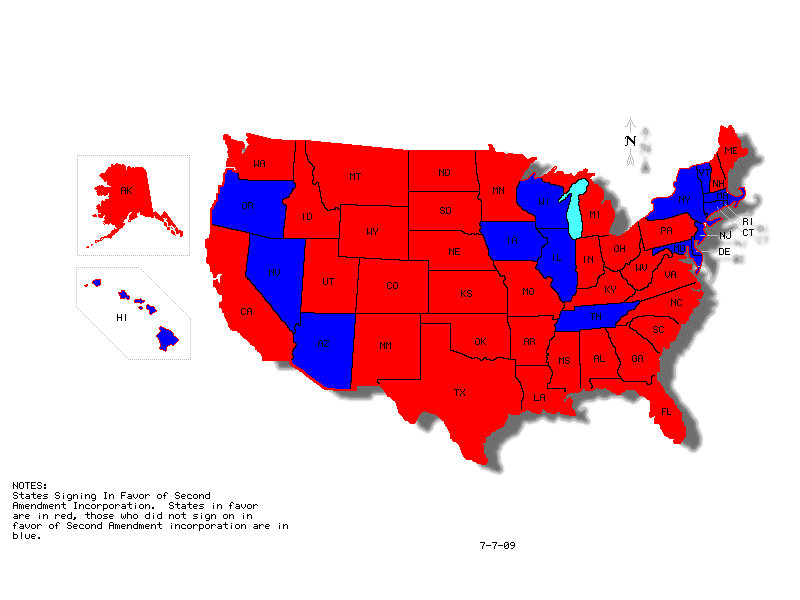 What's up with Arizona, Tennessee and Nevada?  I mean, if Jerry Brown can sign on, you can too.  Here are some links to state AGs who did not sign on, who should be asked to explain why they did not:
Arizona, Connecticut, Delaware, Hawaii, Illinois, Iowa, Maryland, Massachusetts, Nevada, New Jersey, New York, Oregon, Rhode Island, Tennessee, Vermont, and Wisconsin.
One thing to consider is a lot of these AGs are appointed, rather than elected.  So they may be somehwhat restrained in what they can sign on to.  But still call, and put pressure on the people that appointed them.  With the exception of Wisconsin and Hawaii, all these AGs are Democrats.  Wisconsin is an elected AG, so be sure to call him in particular if you live there.
UPDATE: I'm told under Wisconsin law that the AG has to get the Governor's permission to sign on to anything, and Doyle is against the Second Amendment being incorporated.  So call Jim Doyle's office and complain to him.