For those who are worried that we're reliving the 1930s, whether you think we're about to repeat nazi Germany, or even be dealt another "New Deal", you should take a look at this electoral map of 1932: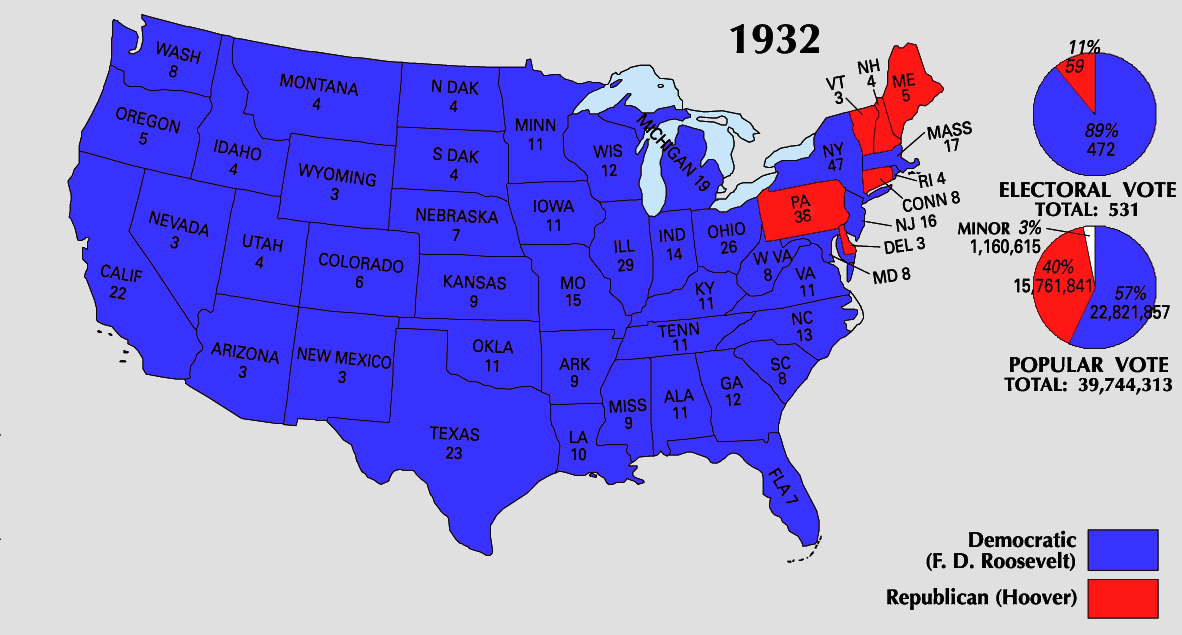 Roosevelt defeated Hoover by a margin of 57 to 40 percent.  With the exception of Pennsylvania, Delaware, Connecticut, and rural New England, which were traditional Republican strongholds at the time, FDR won every other state, including all of The South, The West, and the Midwest.  His win in 1936 was even more spectacularly lopsided.  The last time we saw wins of this magnitude?  Ronald Reagan.
Folks, this is not a country that is about to embrace socialism, or yield to a new Obama dictatorship.  They are not about to send their sons and daughters off to join a paramilitary secret police force.  We are not living in that world.  The left pulled out all the stops, and played every play in their book, and the best they managed was 53%.
What do we have to watch for?  The things we know progressives like doing.  More government entitlements.  More gun control.  We have to be prepared to fight this national service corps, not because it'll become the next SS, but because it's a bad idea.  We will definitely have a tax fight on our hands.  We have to be prepared to wage the political fight of our lives to stop these measures, especially new entitlements, which are almost impossible to get rid of once you have them.  But we're not in a death match to stave off Soviet or Nazi America.  Not yet, at least.