Jan 24, 2017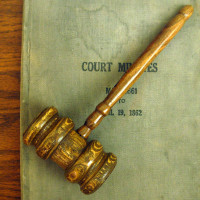 Cases are starting to be filed and hopefully moved again, including this one in Massachusetts. I don't want to say I'm wary, but I am. Replacing Scalia with someone solid on the Second Amendment doesn't get us anywhere; it prevents us from sliding backwards. Trump's leading candidate for replacing Scalia is Neil Gorsuch from the 10th Circuit Court of Appeals.
We did litigate the Colorado magazine limitations in the 10th Circuit. The District Court upheld the ban, but that ruling was thrown out by the Circuit Court because they argued none of the plaintiffs had standing to sue. Judge Gorsuch didn't have anything to do with that case, so the best we can do is the quote from SCOTUSBlog link above:
Together §§ 922(g) and 924(a)(2) operate to criminalize the possession of any kind of gun. But gun possession is often lawful and sometimes even protected as a matter of constitutional right. The only statutory element separating innocent (even constitutionally protected) gun possession from criminal conduct in §§ 922(g) and 924(a) is a prior felony conviction. So the presumption that the government must prove mens rea here applies with full force.
I think more will have to come out in the confirmation hearing, but his position on that case makes him promising. We will have to replace one of the liberals to move forward. Otherwise I'm afraid we're just going to create more bad precedent in the circuit courts that the Supreme Court will leave in place when they refuse to hear the case.
5 Responses to "Back in the Lawsuit Business"
Trackbacks/Pingbacks
SayUncle » Let the lawsuits begin - […] The NRA is going after the MA assault weapons ban, which you may remember was completely altered with no…