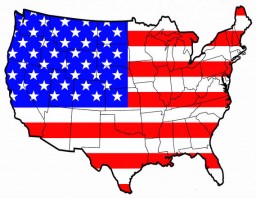 The United State is either on its fifth party system, or its sixth, depending on who you talk to. I accept the theory that the post 1968 realignment represented a new party system. I think we 2016 may, in fact, mark the end of the sixth party system, causing us to head into a seventh party system. I think this is what drives a lot of fear in regards to Trump. No one knows what the seventh party system looks like. I can safely say there are a few factors that will go into the realignment.
Both parties are experiencing populist uprisings. Other than the possibility the DOJ removes Hillary from the race, she's still the presumptive nominee if she can hold the Dem super delegates, which she failed to do in 2008. Even minus the super delegates, she's still leading Bernie. I think the Republicans stand a high likelihood of going into a brokered convention. As much as I do not want Trump, I think a brokered convention is a disaster for the party. How much of a disaster depends on whether the establishment types put their own guy in the race, or whether they remain committed to rallying for a candidate who at least ran this election cycle. I think the GOP are the more vulnerable party to the uprising because, frankly, most of the people in the GOP's tent pretty much hate each other. Like Humphrey Bogart and Ingrid Bergman will always have Paris, the Dems will always have "free" shit.
The evangelical voters have shown their cards to a large degree in this election. Cruz was the perfectly tailored candidate to capture the evangelical vote. They couldn't have asked for more. Yet going into South Carolina, more than half of evangelical voters were behind Trump. All the religious pandering, which Trump does not do, has the effect of turning off a lot of potential GOP voters outside the Bible Belt. After Trump, can there be any justification for politicians continuing to pander this way? Probably not if we're looking at a completely new electoral map built around the Trump coalition.
Good manufacturing jobs aren't coming back no matter who is President. A protectionist economy would be economically devastating to implement. Even if Trump can swing a few immigration restrictions, it's not going to amount to much. The real long term threat to working class (and even some upper middle class) jobs is automation and robotics. Self-driving cars aren't all that far off. Think about how many people are employed in trucking and transportation and you can see why this is going to be a huge problem. Short term we've put too much emphasis on college for people not well suited for it, at the expense of teaching skilled trades robots will have a hard time doing (for a while at least). I don't know what the solution will be for the long term problem. What do we do when we have a huge robot labor force and humans just don't have to work all that hard? Some people do well when they win the lottery, but for many, it destroys their lives. That kind of micro-economy is what we'd be dealing with at large. What's the solution? One thing I know for certain is Donald Trump does not have the answer.
One thing pundits have been talking about is the turn of the "Reagan Democrat" in the Trump coalition. It's also been called the Archie Bunker Vote, and some of them are paleocon Buchananites previously alienated from the GOP by the Bushs. The problem with building a coalition around this voting bloc is that it's unreliable. They only tend to show up when they are angry. I wouldn't expect whatever coalition Trump builds to last more than two or three cycles. Nixon's coalition didn't last. With the sixth party system smashed to bits, whatever coalition reforms on the other side will be different, and I suspect will reflect some of the realities here.