Feb 26, 2016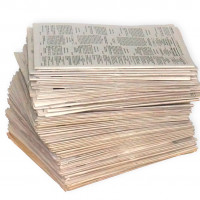 I was worried for a bit I wouldn't have enough news, but I think I can give a news post a try:
Smart: Given the death of Justice Scalia, New York State Rifle and Pistol Association is declining to seek review by the Supreme Court of the Circuit Court's decision to uphold the SAFE Act. The stakes just keep rising, and the voters just keep failing.
Police in the UK seize an "arsenal." Only this time it really is one.
Hillary ought to be upset at the lawyers preying on Sandy Hook families with hopeless lawsuits.
NRA eliminates women's division in small bore rifle shooting, because the ladies can shoot just as well as the men.
SayUncle: "I guess [this] appeals to the same sort of person who buys truck nuts."
Only the police can be trusted with guns.
It's official, we have a ballot fight in Maine this November. Ballot measures should be unconstitutional, because they violate the guarantee clause of the Constitution, which guarantees every state a republican form of government.
The astroturf group comprised of nannying billionaires is trying to run another ballot measure in Washington State.
Opposition growing to Gavin Newsom's ballot initiatives in California.
Yet another attempt by our opponents (namely Mike Bloomberg) to expand the class of prohibited person. They'll keep doing this until a speeding ticket will cause you to lose your Second Amendment rights.
Maybe because gun control is an issue of old white women: "Why Don't Bernie Sanders's Millennial Supporters Care About His Record on Guns?"
Glenn Reynolds on Leland Yee getting 5 years: "I added the stuff in caps because the LA Times left it out of the headline." Left out the little things, like the fact that he was gun running for tong gangs and wasn't just run-of-the-mill corrupt.
Charles C.W. Cooke covers Iowan anti-gunners going ape shit because the state wants to allow kids to shoot handguns with adult supervision. Does anyone for a minute doubt what these people would do if they had the political power?
Constitutional Carry passes West Virginia Senate overwhelmingly. It's passed before. The Governor vetoed it.
23 Responses to "Weekly Gun News – Edition 28"