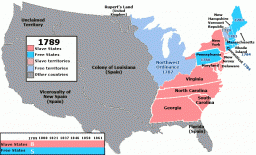 I was wondering when Saul Cornell, former director of the now defunct Second Amendment Research Center, would show his face again. SARC was a Joyce funded effort to promote anti-Second Amendment scholarship to counter the voluminous pro-Second Amendment scholarship that had started dominating academia. The two disparate points of view came head-to-head in the Heller decision, and not a single justice accepted Cornell's points of view.
I guess now that the Supreme Court has sufficiently signaled that it would not defend the Heller and McDonald decisions, and with Bloomberg throwing millions of dollars around to promote biased and flawed research, Prof. Cornell must might figure it's time for him to come back on the scene. At "The Atlantic," Cornell co-authors "The Slave-State Origins of Modern Gun Rights." There's an accompanying paper here.
His argument is as bogus as his previous anti-Second Amendment research partner Carl. Cornell completely glosses over the fact that the origins of gun control also come from the slaveholding South, in the form of attempting to disarms slaves and free blacks. Pro-Second Amendment scholarship has consistently shown that a significant concern for the drafters of the 14th Amendment was protecting the rights of free Blacks to keep and bear arms. Why would they have been concerned about this if there was such a culture of gun control in the North? Cornell points out that several Northern states had laws against going armed in an offensive manner. Yes, you could not legally carry a pistol and rob a bank with it, but that's a different animal than carrying a firearm without ill intent.
Cornell clearly believes, and probably correctly, that the next big showdown is going to be over the right to bear arms, rather than merely keep them. If a Democrat wins in 2016, he'll probably get his wish to redact that part of the Bill of Rights. Probably his wish to redact the whole Second Amendment and overturn Heller and McDonald. I believe the other side is very emboldened these days. If I had Bloomberg's money to spend, and a supportive White House, I would be too. In the coming months and years, it is incumbent on us to be ready to mobilize to teach them once again that they are on the wrong side of history, and that they cannot win.