L'affaire Ahmed has been reverberating across my facebook feed for a while now, and it looks like we've gotten about all the facts that are going to be shaken loose outside of discovery in a civil suit (if there is one). And while I can't say I'm surprised at some of the knicker-twisting, I'm a little disappointed. First, a picture of the clock (or hoax bomb). CNN says this is police provided. No real scale is provided, but note the power plug – the case is approximately the size of the top half of a piece of paper, when closed, per this amazon listing. (Amazon listing complete with self-amusing internet jokers in comments)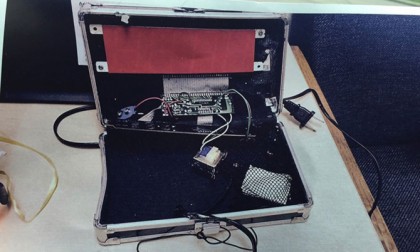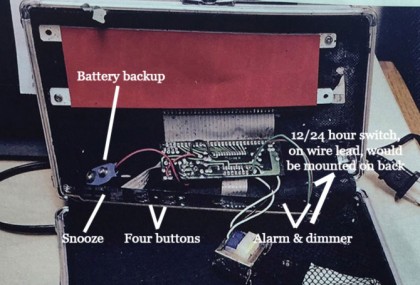 According to this post and comments (which is where I pulled the above pics from), the guts are a 1970s-1980s vintage digital clock, contained in a pencil box available on Amazon. Since the CNN article notes that it was discovered in Ahmed's backpack when an alarm went off, I'm going to assume that there was a 9V battery in place at the time (or some other on-board power source since removed).
Now, there are (at least) two competing narratives running around. Ahmed's story is that he made this as an alarm clock, brought it in to show a teacher, and then another teacher discovered it and brought it to the attention of the authorities, who then flipped out, etc. The other narrative is that he deliberately made a fake bomb, and allowed it to be discovered, because Reasons. The second narrative really doesn't pass Occam's Razor for me, though. First, that's a really bad fake IED. A real IED is supposed to be innocuous, of course, and not draw attention to itself until too late. A fake one, that you might want to use in a bomb scare, on the other hand, needs to be obvious. This is a pencil box when closed up, with nothing (except possibly the power cord) showing on the outside to make you think it's anything else. And when it's open, where's the "payload?" Even Hollywood Bombs have obvious explosives in them. No play-doh, no red-painted cylinders with wires coming off of them, nothing that shouts "I'm a thirty-minute bomb, I'm a thirty-minute bomb!" Secondly, there's the whole "he didn't make that" meme, because it's a commercial product, disassembled and half-way mounted into the case; rather than being a from-scratch project. The thing is, it's a 30-ish year old clock, in a recent case. There's an incongruity there that irks me. Finally, Ahmed's behavior doesn't fit. Why did he establish the device was his own practically as the first thing he did upon bringing it to school, and why did he maintain possession of it the entire time he was in school?
Here's my theory. A 14-year old tinkerer was bored one day and opened up a broken alarm clock made before he was born, and got it working again (loose wire, broken solder, what have you). He decides to install the repaired clock into a pencil case, and he's "made" himself a custom alarm clock from stuff lying around his desk. In a fit of 14-year-old enthusiasm and forethought typical of 14-year-old enthusiasm, he takes this alarm clock he made into school to show his friends and teachers this cool thing he did. In previous times, it might have been a shiny new pocketknife, or a wrist rocket (slingshot), etc. He shows it to a friendly teacher, who may have encouraged his ambitions, but tells him to keep it out of view because someone might overreact. Ahmed goes on with his day, forgetting he has an alarm set (or not knowing. I have a similar vintage alarm clock that is distressingly easy to accidentally arm the alarm on, and it's defaulted to 0000 hrs. Very annoying). Alarm goes off in his backpack, disrupts class, teacher wants to see, teacher freaks. Then the school administration, being a bunch of zero-tolerance idiots, freaks and bring in Johnny Law. Ahmed insists he's done nothing wrong – it's a clock, see? Keeps time and everything. Possibly following the advice given out regularly around these parts of "don't talk to the law without a lawyer." The notable thing at this point is that the school administration never believed it was a real bomb, since they didn't do evacuate the school or otherwise put into action bomb-scare plans. Instead, they jumped right to bringing down the hammer on what, at most, is a little understandable high-school-frosh eager stupidity, and thus splashing this all over the country.
Bringing the thing into school wasn't the wisest idea in the world, and I'm not going to say the school should have not reacted at all, but calling the cops in and interrogating a student without benefit of counsel with the cops present? Yeesh.