Sunday is usually the most relaxing day of the show because the crowds ease up from Saturday and there aren't as many long events to squeeze in as Friday. But, let's talk crowds at this year's NRA Annual Meeting. Sebastian and I both observed that this year's crowds were so much younger than previous years. We saw far more women, more tattoos, more unique piercings, and even more mohawks. This was not the old, white boring guy convention that the media would like to portray.
For us, Sunday meant spending well over an hour going up and down the collector aisles. Sebastian already covered highlights of this visit, but it is always the section we're most excited to see these days.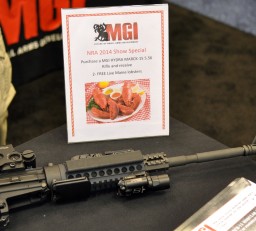 Walking out of the collector section, we did come across quite an interesting show special – free lobsters.
Sunday is also the day when many people who have been tied up in other events are finally able to make it to the floor. At one point, we stopped to talk to Sandy Froman, past NRA president. Even NRA presidents have the same issues we have as on the ground members – not enough time to shoot the guns we already own! After spending a little more time at the Smith & Wesson booth, Sebastian said hello to Molly Smith who he initially met years ago at Gun Blogger Rendezvous.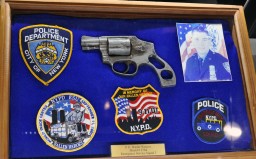 Off of the floor, we took some time to talk to Phil Schreier who is Senior Curator at the Firearms Museum which had a great set up in the NRA booth at Annual Meeting this year. It's still amazing how the idea to put up a video about an old air rifle in their collection has resulted in 3.7 million views on YouTube.
We also finally caught up with David & Colleen Lawson, co-plaintiffs in McDonald v Chicago and now of Lawson Handgun Institute, and heard about the successful training programs they are now running in Chicago.
At some point, we crashed before dinner at St. Elmo's Steak House which we had recommended to us many, many times. Since we also saw other NRA Annual Meeting attendees posting about their visit the place during the weekend, we figured we should check it out.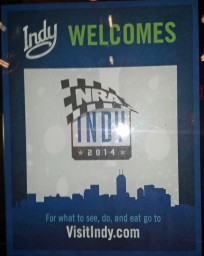 Speaking of food, I forgot to mention another highlight from the previous day. We caught a quick bite to eat with our Grassroots Coordinator at NRA for our election volunteer efforts, and the grub at Pearl Street Pizzeria & Pub was definitely delicious. I had a small pizza with pear, gorgonzola, arugula, and balsamic vinegar that was delicious. We didn't see any kind of postings, though they didn't have any signs greeting NRA members, either. Granted, they are also located in an alley, so it's not like there's much room. Regardless, it was worth mentioning because we haven't had anything bad here in Indy. The drinks are pretty pricey at most places ($5 even for beers that might as well be water, much more for anything better), but the food has been great.
Unfortunately, there was kind of a downer to the evening with local tv news revising estimates for attendance down to 50,000 people – a number that I don't think has ever been an estimate for any year I've been attending (since 2004). I hope that was a mistake report, but things in our hotel aren't looking good. Both bars advertised that they were supposed to be open until midnight this evening, but they both appear to have closed up early due to lack of business. It's tough to use that as a judge though since there are sooooo many places to eat and drink within a short walking distance, which isn't that common in many convention towns.
I suppose we'll have an idea of the overall impact of this year's Annual Meeting tomorrow at the board meeting. Keep an eye out on Twitter for our up to the minute reports of the numbers.