Moms Demand Illegal Mayors, or whatever the two merged groups are called these days, are declaring total victory in the Facebook/Instagram policy statement that any reported post featuring an offer to sell any regulated product privately will generate a reminder to sellers that they shouldn't violate the law.
But the Brady Campaign swiftly sent out a letter to their supporters highlighting that the anti-gun groups didn't get anything they demanded at all, and this is not in any way a victory. The thing is, the Brady Campaign is right on this, at least coming from a gun banner's perspective.
Remember that what the Moms/Illegal Mayors were demanding was a total ban on any kind of speech/photo that might result in a gun sale. Here are a few screen caps from their campaign: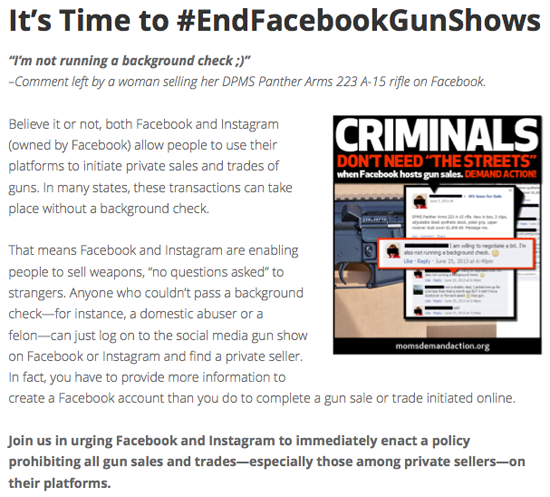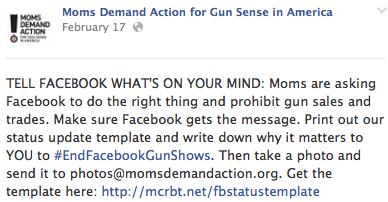 The result is a clear invitation by Facebook and Instagram to sell & promote firearms using their platforms, just with reminders that they ask their users to follow the law. They also outline very specific language that they will look for and interpret as signals that show sellers may be trying to avoid the law so that sellers have a clear picture of what kinds of promotions Facebook will agree to host and those which it won't.
The Brady Campaign is clearly pretty pissed off that Facebook has actually spelled out that gun sales, even private transfers that may not require a background check, are okay by Facebook and that their supposed "allies" in this movement are calling the continued sale of firearms, now with guidance from corporate, a victory.