Nov 27, 2013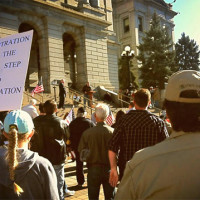 Yesterday, it was rumor that only if recall organizers in Colorado managed to force a recall that Sen. Evie Hudak would resign in exchange for special perks in choosing her replacement in the Senate and on her committee in order to keep the Democratic Party in charge in the Senate. That kind of naked power grab doesn't sit well with many people, as evidenced by even the comments here on our report from yesterday's rumor.
This morning, the local media picked up on the rumors, and suddenly Hudak announced that she is instead going to resign before the recall petition signatures are even due.
According to the early report, part of Hudak's initial deal with Democratic Party leaders was that they would go all out for her to keep a recall from even happening. They certainly tried that by getting quite nasty with phone calls and lit drops that implied anyone signing the recall petitions was giving their personal information to sex offenders and criminals.
While Colorado's Senate remains in the hands of Democrats for now, this is a prime opportunity to start focusing on 2014's political punishment for backing gun control.
11 Responses to "Evie Hudak Resigns BEFORE Recall Certification"